Like weely giveaways? Like exclusive classes? Like special offers?
Then your'll love our Newsletter!
Build Your Own Djembe Drum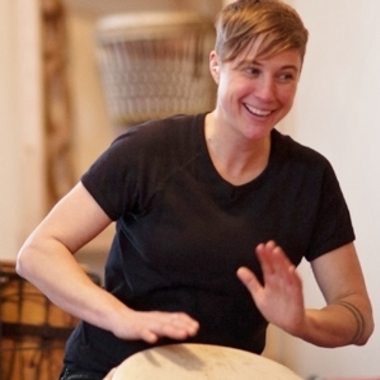 ---
---
Description
African drummers believe that there are three sprirts in a djembe; the spirit of the tree from which it is carved, the spirit of the animal which gave the drum its skin and the spirit of the drum maker.
Drum building is a wonderfully creative and deeply satisfying process. Some aspects are very labour intensive (i.e. tuning, cranking) and others more 'crafty' such as oiling the drum shell and roping up the drum prior to skinning. The process is intensely gratifying in that the maker/builder literally can hear the drum come to life as they work.
The sessions are held in our workshop in Newham, (near Woodend), or at your venue of choice.
STAGE 1: Preparation for skinning
Oiling the wooden shell
Wrapping the rings with fabric
Roping the rings
Roping the drum
STAGE 2: Skin preparation, skinning & drying
Skins require shaving and soaking for at least 4-6 hrs. As shaving the hair off the skin requires a high skill level so as not to puncture the skin, the skins are supplied pre-shaved. 'Skinning' or putting the skin over the head of the drum can also be quite fiddly and is often more a process of learning how to correct mistakes.
STAGE 3: Tightening, tuning & finishing
This is the most labour intensive stage and when the drum really starts to come to life. The skin requires at least 1 week (storage condition/weather dependant) drying time before this stage can commence.
+ More
What you will learn
Preparation for skinning:
Skin preparation, skinning & drying
Tightening, tuning & finishing
What you will get
Students walk away with a professional djembe drum that they can be proud of they made it!
---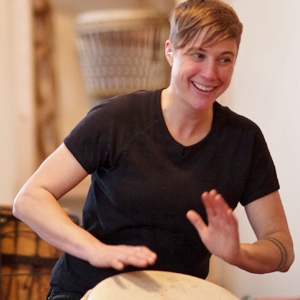 The djembe was created to express joy and to celebrate life. Drummergirl teachers and performers embrace this notion and aim to make all aspects of drumming as fun and joy-filled as possible for all participants and audiences.
Simone Lang is the founder & director of Drummergirl and has been studying West African drumming and percussion for over 17 years. She has studied with some of West Africa's finest exponents of the tradition including Mohamed 'Bangourake' Bangoura, Lamine 'Lopez' Soumah of Percussion de Guinee, Mamady Keita and Famoudou Konate. Simone has travelled to the countries of Guinea, Senegal and The Gambia to study and absorb West African drumming and culture.
In 2012 Simone completed intensive study in San Diego and Bali with Grand Master Mamady Kieta one of the world's most important exponents and educators of the Mandingue tradition.
As a facilitator and instructor, Simone is renowned for her charismatic approach and she imparts her knowledge of West African drumming and culture with integrity and buoyant enthusiasm.
+ More