Beginner Drumming Classes - Camberwell
---
Next Available: Tue, 22 Jan 6:15PM
Book Now (http://weteachme.com/l/WxSUxiAr)
---
Description
Learn with Laura Kirkwood
Laura has been studying percussion for over 12 years, touring and recording with various bands ranging from jazz to ska. Following the beat of her own drum, she attended African Drumming's 2013 tour to West Africa, studying with Master drummers in Ghana and Burkina Faso. She became fascinated in how music is central to the flow of life, igniting an interest to study different cultures music. After completing African Drumming's Teacher Training Course, Laura had the opportunity to teach workshops across Australia, and began teaching her own music therapy classes in Brisbane. Having studied Latin music at the University of Florida, she has since been accepted into postgraduate studies in ethnomusicology at the Melbourne Conservatorium of Music in 2017. Laura believes that music can transcend language barriers and is sometimes a language of its own.
…………………………………………………………………
The emphasis at the Beginner Level is on:
Having fun
Learning basic technique on the djembe (bass, tone and slap)
Appreciating West African music
Developing groove, control & listening skills
Working together to become an ensemble
Introducing soloing as a group
Working on timing
Exploring basic musical concepts
+ More
What you will learn
Develop groove, control and listening skills.
Experience the joy of community music
Basic technique on the djembe (Bass, Tone and Slap) and West African rhythms
What you will get
Knowledge of West African drumming and control of easy-to-follow rhythms
Access to our Social Media networks and resources
10% student discount storewide
---
What to bring
We will have a drum ready for you at class – you don't need to have your own. Ask your teacher about renting a drum so you can practice between classes
Appropriate for
Those with no or limited experience in hand drumming
---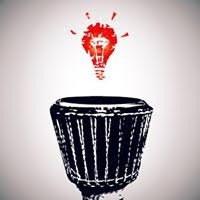 Established in 1997, African Drumming has become Australia's trusted name in West African music.
We are dedicated to sharing the music and culture of West Africa in all that we do: through classes, workshops, study tours and performances which connect a wide audience with this powerful music. Not to mention our instruments! We are one of the largest African music stores in Australia and we love our drums.
In 2011 we relocated from a little store in Grey Street to a larger purposed Head Quarters @ 252 St Kilda Rd, St Kilda. Our HQ houses both the brains and brawn of the operation, with our showroom, studios, offices, warehouse and the all important drum making workshop here under one jamming roof. We love it in St Kilda!
We have a nation-wide network of drummers and dancers under our banner and operate across Australia. Our team includes performers and drum makers from around West Africa such as Mali, Senegal, Ghana and of course homegrown talent too.
We're always looking to the future and constantly working on the next big project, event and product.
+ More