Gorgeous Pom Pom rug to make!
---
---
Description
Make the pom poms and assemble a small rug (approximately 45cm diameter) across 2 classes.
I thought this project would be easy, but it takes a loooong time to make around 40 pom poms for this rug. So the first class we choose our colours and learn how to make pom poms, using a variety of techniques, and make as many as we can. The second time we get together we start to assemble the rug and make an assessment whether you have time to make more yourself or would prefer to dip into my pom pom stash to complete your project.
It's lots of fun and the end product is adorable!
+ More
What you will learn
How to use different techniques to create pom poms
How to assemble the rug
What you will get
A variety of yarn colours to choose from - Meters and meters of yarn.
Some ready-made pom poms to complete your rug. Approximately 45cm diameter latch hook mesh circle edged in bias binding.
Fun and social atmosphere Coffee, Tea and snacks included - and a cheeky glass of wine if the mood takes us!
---
What to bring
All materials are provided.
What to wear
Casual, relaxed.
Appropriate for
Adults who like to play!
---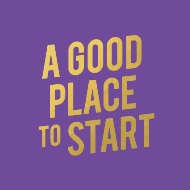 Are you looking for a fun, social, relaxed way to learn a new skill? Are you resisting the idea that beautiful skilled handcrafts may disappear within a generation?
A Good Place To Start provides workshops with the time, space, materials and instruction to allow you to indulge your creativity while sharing good food and conversation with kindred spirits.
+ More