QLD - 4 Day Airbrush Workshop - DAYBORO - OCT 14th 2017
---
---
Description
4-Day Workshop Starting Saturday to Tuesday Location - DAYBORO QLD 4521 - THIS WORKSHOP WILL BE POSTPONED PLEASE ONLY BOOK KNOWING THIS WORKSHOP WILL BE PUSHED BACK TO LATER IN YEAR. SORRY
This is for the BEGINNER (totally novice) student or a student who wishes to bettering their skills. The 4 day workshop accomodates all levels of Airbrushing and your project will refelect the level you are currently at. One of our employees will call and discuss the level your ad at time of confirmation.
If your a more advanced student Wayne will work out projects for you in a seperate group or he will show you something you want to learn. eg true fire - portrait - etc.
Day 1 -

Getting started in airbrushing - control of the airbrush and b/w scene.

Day 2 -

Metal panel project working with colour and effects of ripping effect & useing a stencil to 3D.

Day 3 ,4 -

Larger projects of many effects learning to create metal, wood, blades, fire, blends useing the airbrush & freehand work as well as stencil work.
This design Wayne creates with students incorporating all the things they want to learn into one design. These panels you can see in the many pictures promoting the courses.
YOUR TEACHER: WAYNE HARRISON - Wayne has over 35 years in the trade of Airbrush Art. He is the sole artist behind every "Virgin Maiden" painted on every single aircraft in the original Virgin Blue aircraft fleet. He is also the winner of many business awards eg "Business person of the year" , runner up "Entrepreneur of year" as well as many business awards for his business & artworks at "Advanced Airbrush". Wayne has run a very successful commercial airbrush business for over 24 years and has worked on many varied projects. His knowledge he now shares and teachers in his classes are extremely valuable and only experience allows him to teach and show first hand.
* PLEASE NOTE THIS CLASS CAN'T PROCEED WITH LESS THEN 7 STUDENTS, IT WILL BE POSTPHONES TO A LATER DATE SHOULD THIS HAPPEN. PLEASE CALL IF YOUR INTERESTED AND SEE HOW NUMBERS ARE GOING. Head Office - 1300 733 165
+ More
Class Schedule
4-Day " LEARN TO AIRBRUSH" Workshop or for the student wishing to better there airbrush skills.
What you will learn
Getting started in airbrushing - control of the airbrush, maintenance, equipment
You will complete project 1st day of 3Ding a stencil & creating blends and shades
Day 2,3 & 4 you will learn many effects e.g. metal, wood, blades, fire, blends. freehand and stencil work. On your last day you will complete a combination of works learnt to create a themed panel. Designed by Wayne during workshop
What you will get
It is 100% hands on workshop, with support written material
Lunch supplied daily with refreshments
All equipment supplied for workshop
Certificate of completion of attendance with Wayne
Directional support on moving forward in Airbrush, and other classes recommended if wished
Expert tuition from award-winning airbrush artist Wayne Harrison who currently holds Cert IIV in training & Assessing
Support to find location accommodation if out of area, we have a lot of interstate and overseas students attend.
equipment advise and support (www.airbrushshop.com.au) is our preferred supplier of products selling all equipment we use within our workshop.
---
What to bring
Your own airbrush (recommended) But a loan airbrush is supplied if you havn't found the right one or wish this knowledge before buying.
If you have special food needs we recommend you advise us, or your welcome to bring your own and a fridge and microwave are available to use.
note book and pen to write down that information that is important. Or personal advise given.
What to wear
Casual (Warning: It might get messy!)
Appropriate for
Both male and females. We do have a lot of girls and ladies attending of all ages. We recommend aged between 14 - 99. But advise a call if under 16 to discuss, parent know there children and every child is different.
---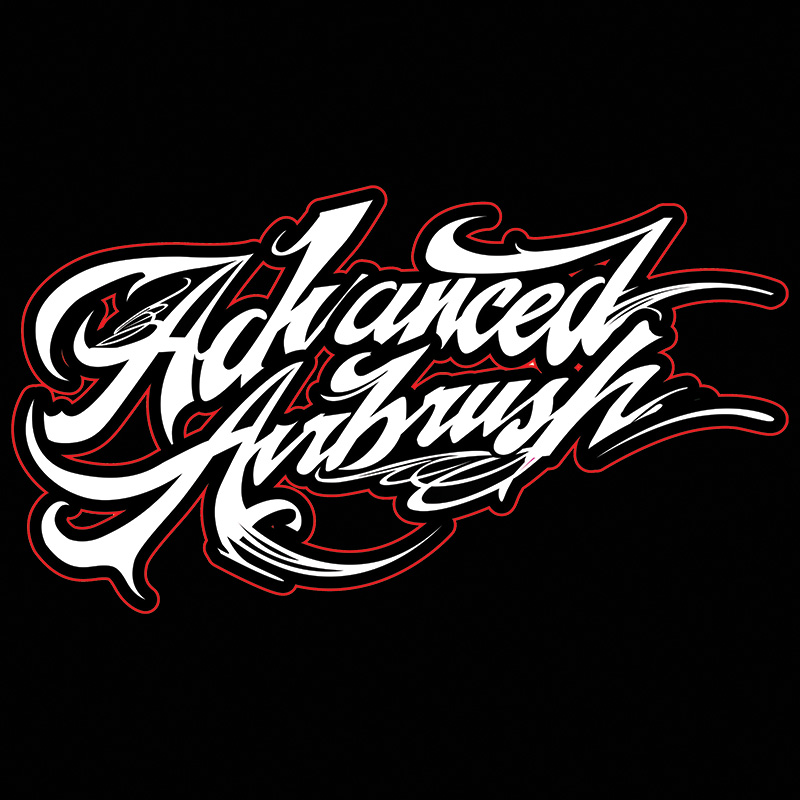 Advanced Airbrush has been operating since 1992. Wayne Harrison is our principal artist and director. We are founders and members of the Airbrush Network of Australia. We also ran the first Airbrush Expo in 1998 and several followung. Wayne Harrison the owner is also a TAE Certified Trainer and Assessor. He is your teacher unless otherwise specified.
Wayne has been seen on many TV shows including Studio 10, Sunrise, Today Show and many others.
At Advanced Airbrush, we run beginners airbrush courses as well as courses for the intermediate to advanced students.
As our courses are run on a more individual basis, we offer more a one on one training, and will teach each student at their own pace. You are not limited to the other students and their abilities.
When you come for one of Wayne's courses, you will be shown on the first day what you want to know, you don't have to do so many courses to get the knowledge you're after.
Some students are artists and others have no art skills at all. We will teach you to use the Airbrush, maintain it and do special effects and tricks with it, and to produce artwork.
We teach maximum 14 students per teacher.
About Wayne Harrison
Wayne Harrison (Owner/Artist) has over 30 years of Automotive Airbrush experience including fine arts, Wall Art & all other forms of Airbrush art. Wayne holds a Licenced Ticket for Automotive Art and Graphics.
Wayne's Artworks have won Awards in USA and Australia. Also his artwork has received a lot of Top awards for Top Graphics and Airbrush Art (Murals) throughout the automotive shows around Australia, such as Auto Salon.
Wayne has also traveled to Malaysia to teach students for a new business setting up, and will continue to support the students as required.
With our hands on teaching and personal experience in the Airbrush Field of production we are able to teach you Airbrushing for: Automotive/Bike Airbrushing, T- Shirt Art, Trompe l'oeil (Wall Art), General Murals, Hobby Airbrushing, Nail Art, Body Painting (promotional).
What ever you wish to learn in Airbrushing Wayne & his staff can help.
+ More