Description
With our 30 years of experience in conducting English Courses – why go any further? We know that discerning people only want the best, and our English Courses here in Sydney certainly provide that. Sydney is one of the most multicultural places in the world and our English Classes have been tried and tested over many nationalities.
English – comprehensive and effective English – is essential in obtaining a well paid position these days. In fact, after food and shelter, acquiring a good workable knowledge of English would be the next most desirable attribute, not only here in Sydney but in most parts of the world.
Our English Courses are conducted by well trained native speakers using well tried resources that can increase your English efficiency in a remarkably quick time. Imagine:
Being able to converse with a good command of comprehension and communication.
Being able to write a well composed letter, send a concise email and text a coherent message.
Holding a conversation in English without saying constantly "I'm not sure I understand what you are saying. Could you repeat it a little slower?"
Writing an essay where your teacher pats you on the shoulder and says 'Well done. You should do well in your English test".
Your boss, saying "I have to send an important message. I know you have very high skills in English, can you help me?
Your Company Director saying "Your writing skills have helped us get another contract, Steve. Maybe we can raise that salary a bit higher."
Being able to say, "I'm not having trouble with my course now, as my reading and writing have improved since I attended English Classes here in Sydney".
All these things are possible for graduates from ATOP Education.
Conveniently, our English Courses are located within walking distance of railway stations in the Inner West and Northern suburbs of Sydney.
+ More
Class Schedule
Weekly ongoing classes
What you will learn
Acquire a good workable knowledge of English.
What you will get
Small class size to ensure individual attention
Tuition under well trained native speakers
---
What to wear
Casual, comfortable clothing
---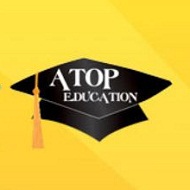 Look no further. Our thirty years experience in this field provides the answer. We cover English and Maths from pre-schoolers to adults and at every stage we aim to help every student achieve optimisation of their performance in these two subjects. With highly qualified staff, who take a personal interest in the aspirations of our clients, we constantly achieve excellent results and provide customer satisfaction.
Learning to read is a snack with our phonics programme, which has been designed by people who have been at the forefront of English acquisition for thirty five years.
Creative writing is also a major part of our programme. English as a second language is no problem – we have had years of experience in this field.
Our teaching is directly designed for the New South Wales school curriculum. However, because of the amazing results being achieved in maths in Singapore, we are now teaching Singapore Maths as well. This type of maths is noted for its wonderful methods in problem solving which is achieved by bar modelling and which has contributed to its overwhelming ascendancy in the international maths world A look at the Singapore Maths method in Wikipedia gives an in depth appraisal of this outstanding method.
Catering for pre-schoolers preparing for the start of schooling, getting ready for Opportunity Class, Selective School or Scholarship exams and eventually the 'Big one – the H.S.C.' –are a part of our daily successes. IELTS preparation and senior education in English and Maths classes are also conducted.
Classrooms are conveniently situated near Inner West and Northern Suburbs railway stations of Sydney.
+ More