Glass Blowing Level 1: Introduction to the world of hot glass
---
---
Description
Join our professional glass blowers in this two day workshop where you will learn the basics of working with molten glass to create up to four pieces of work that will impress your Friends and family. Patrick Wong and Miles Johnson will guide you through the basics of working with glass, covering a variety of topics that will enable you create a functional or decorative item. Students will make 2 paperweights and 2 simple vessels. All materials are included in the class fee. This class is suitable for beginners or those with a little blowing experience. Students need to be at least 15yrs old and able-bodied.
You will learn about: Safety and correct studio practice; Introduction to tools and equipment; Introduction to the furnace and gathering molten glass; safe handling of glass; Introduction of solid working techniques (paperweights and other forms); Introduction to blowing bubbles in glass; Development and techniques to manipulate the bubble; Introduction to vessel making; Introduction to colour into glass
Available workshop dates:
Saturday and Sunday 11th and 12th June
Fridays 24th June and 1st July
Saturdays 2nd and 9th July
Tuesday and Wednesday 9th and 10th August
Saturday and Sunday 17th and 18th Septembe
+ More
Class Schedule
2 full days
What you will learn
Introduction to a glass blowing studio, tools and equipment
Gather molten glass and manipulate it on a punty
Form and shape solid and hollow forms
What you will get
Students will make 2 paperweights and two simple hollow vessels
Expert tuition from an experienced glass artist!
---
What to bring
Safety glasses, lunch and bottled water
What to wear
long pants, closed toe and heeled shoes, natural fibre clothing, long hair tied back,
---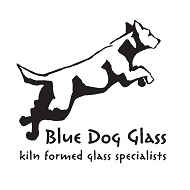 Located in Mordialloc, Melbourne, Blue Dog Glass is a unique business dedicated to offering quality products, tuition and commissions in the field of kiln formed glass. We combine artistic flair, refined technique and practicality to produce items and services of true individuality. We stock an extensive selection of materials and tools for any glass enthusiast as well as providing specialist technical support.
As importers and distributors of Bullseye Glass and Paragon kiln products, our range of glass and products are of the highest quality. At Blue Dog Glass we also provide a personalised commission service including cast hand prints, functional ware, business or sporting awards and architectural lighting design. Our team can collaborate with your business to produce design prototypes and items best suited to your needs.
Classes offered at Blue Dog Glass are conducted by professional artists and offer students the opportunity to learn in a friendly and creatively conducive environment. Our classes cater for absolute beginners and craft makers through to professional artists looking to expand their practice with specialist glass workshops.
+ More