Description
In this one day workshop students will learn basic casting skills while making a glass cast of their own hand. Students will be guided through how to make a safe, flexible cast of their hand, this is then cast in solid wax, a refractory moulds is made, wax steamed out, glass put in and voila you have your hand in solid glass!
It sounds like a lot to get through in a one day workshop however this highly structured workshop gives you an sound introduction into the world of glass casting. All materials are provided with the exception of the glass billets, you will need to purchase the required colour and amount at the workshop approx $50- $90
+ More
Class Schedule
This class runs over one full day
What you will learn
Pouring wax, finishing wax, making a refractory mould, streaming wax
Calculating glass amount, basic firing schedule
Making an impression of a 3D hand
What you will get
All materials are provided with the exception of the glass billets.
---
What to bring
Students will need to wear suitable clothing, ie an apron or over shirt and covered in shoes. Please bring a dust mask and safety glasses. Enough glass in the form of a billet to cast the hand, this can be purchased as required in class time.
What to wear
Long pants, closed toed and heeled shoes.
Appropriate for
Beginners or students from any level
---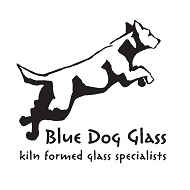 Located in Mordialloc, Melbourne, Blue Dog Glass is a unique business dedicated to offering quality products, tuition and commissions in the field of kiln formed glass. We combine artistic flair, refined technique and practicality to produce items and services of true individuality. We stock an extensive selection of materials and tools for any glass enthusiast as well as providing specialist technical support.
As importers and distributors of Bullseye Glass and Paragon kiln products, our range of glass and products are of the highest quality. At Blue Dog Glass we also provide a personalised commission service including cast hand prints, functional ware, business or sporting awards and architectural lighting design. Our team can collaborate with your business to produce design prototypes and items best suited to your needs.
Classes offered at Blue Dog Glass are conducted by professional artists and offer students the opportunity to learn in a friendly and creatively conducive environment. Our classes cater for absolute beginners and craft makers through to professional artists looking to expand their practice with specialist glass workshops.
+ More