Wax Modelling and Casting for Jewellery
---
---
Description
Adventure into the world of handmade cast jewellery. Create one-off jewellery objects or miniature artworks that can be worn. Teaching the basics of was working, the tutor thoroughly explains all aspects of the related health and safety, casting processes, tools, materials (hard wax, soft wax and metal casting), general tips, design considerations, tricks and practicing techniques. Upon completion students have the knowledge to continue to practice their wax working and casting on the their own. Please note all tools and equipment are provided, students will need to pay for their casting fees (approx $2 – $5 per item and silver calculated by weight). Please note that the silver casting is out-sourced to the jewellery industry, details are provided during class. No experience is necessary in wax or jewellery. Students need god eyesight ad the steady use of both hands.
About the teacher
Kathryn Wardill is a Melbourne based contemporary jeweller who received her Masters of Arts, Fine Art by research from RMIT University in 1998. As a jeweller and glass artist she has actively participated in group and solo exhibitions internationally for the last 21 years. Wardill's dedication to researching jewellery objects which combine metal and glass has resulted in solo exhibition, artist in residencies and is represented by Kirra Gallery, Studio Ingot and e.g. etal. More information about Kathryn can be found at www.wardill.com
+ More
Class Schedule
3 x 3 hour classes
What you will learn
Modelling wax, preparing for casting in metal, ring making process, , pattern and embossing processes,
Calculating costs, cleaning up metal castings, finishing techniques, oxidising metals and OH&S
---
What to bring
Suitable clothing: long pants, covered in shoes and an over-shirt. note/sketch book. Long hair must be tied back.
What to wear
Long pants and covered toe and covered heel shoes.
---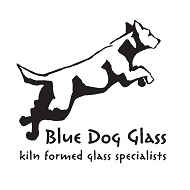 Located in Mordialloc, Melbourne, Blue Dog Glass is a unique business dedicated to offering quality products, tuition and commissions in the field of kiln formed glass. We combine artistic flair, refined technique and practicality to produce items and services of true individuality. We stock an extensive selection of materials and tools for any glass enthusiast as well as providing specialist technical support.
As importers and distributors of Bullseye Glass and Paragon kiln products, our range of glass and products are of the highest quality. At Blue Dog Glass we also provide a personalised commission service including cast hand prints, functional ware, business or sporting awards and architectural lighting design. Our team can collaborate with your business to produce design prototypes and items best suited to your needs.
Classes offered at Blue Dog Glass are conducted by professional artists and offer students the opportunity to learn in a friendly and creatively conducive environment. Our classes cater for absolute beginners and craft makers through to professional artists looking to expand their practice with specialist glass workshops.
+ More