Like weely giveaways? Like exclusive classes? Like special offers?
Then your'll love our Newsletter!
A Taste of Italy: Tuscan Long Lunch
---
---
Description
In this hands-on cooking class you will prepare an Italian long lunch menu inspired by the beautiful region of Tuscany using the morning pick of Barossa Farmers Market produce and local farm gates including:
Entrée: Ribollita Toscana (a delicious winter soup)

Fresh Pasta - Pappardelle with Duck Ragu

Risotto: A classic risotto finished with braised cavolo nero braised in Balsamic Vinegar of Modena

Dolce: Cantucci Toscani with Sabajon
Matteo's philosophy is to teach recipes that can be easily replicated at home so you can prepare these wonderful dishes for your friends and family.
After the class you will be seated in the Enoteca and dine on the wonderful dishes you have just prepared with a glass of European wine and Illy coffee.
You don't need to bring anything just wear comfy clothes and a big appetite! If you would like to invite a friend to join you for the Italian Long Lunch at midday after the Taste of Italy class please advise at the time of booking, the cost is $85 per person and includes the 4 course lunch, a glass of wine and coffee.
+ More
What you will learn
The importance of using local, seasonal produce
Lots of handy tips for the kitchen
Hands on preparation of 4 classic Italian recipes: antipasto (entree), fresh pasta, risotto & dessert
What you will get
Delicious 4 course lunch that you have prepared with a glass of European wine & Illy coffee
Recipe booklet to take home
Coffee on arrival
Plenty of time to ask questions
---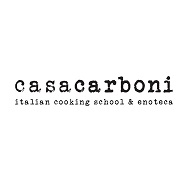 Benvenuti a casa nostra!
Casa Carboni is an Italian Cooking School and Enoteca in Angaston, 1 hr. 15 minutes drive from Adelaide in South Australia's famous Barossa Valley. It was established by Fiona and Matteo Carboni in 2012 after moving to Australia from Parma, northern Italy late 2011.
The Carbonis were destined for Melbourne however a dear friend managed to lure them to the Barossa for a visit insisting that they would love the local produce and lifestyle of this fertile land.
Casa Carboni is an extension of our house ('casa' pronounced kaza means house/home in Italian) where we welcome friends, family and visitors to enjoy a true Italian experience made of food, wine and being together or 'stare insieme'. We want to create an environment where we exchange information, experiences and culture and feed each others passions.
Our dream has always been to start a business around food and wine, and when we discovered Angaston, with it's weekly Barossa Farmers Market, beautiful farm gate produce and an incredible group of like minded people passionate about sustainable farming and 'buy local', we instantly thought we could create something here and build a future for our babies, Sofia and Filippo'.
After all the wonderful places in Europe we have visited we never imagined we would find what we were looking for in Angaston in South Australia.
The aim of the cooking school is to offer an Italian experience at 360 degrees. Recipes inspired by Matteo's homeland and his dear Nonna Pia, brought to life by the extraordinary farm gate produce available here in the Barossa.
+ More
---
Terms & Conditions
le regole di casa nostra...
School Rules, Return & Exchange Policy
There is a no refund policy for any reason. However, class exchanges will be made with at least 14 dayss notice prior to the class date. Casa Carboni reserves the right to cancel or reschedule classes. In the event a class is cancelled, all students will be notified and full refunds given. If a class is cancelled you may also choose to exchange to another class.
Gift Certificates
Gift Certificates can be purchased via the website, in person or via telephone/email for any amount and can be redeemed at Casa Carboni or by calling 0415 157 669 or emailing Fiona@casacarboni.com.au
Gift Certificates are valid 12 months from the date of purchase and are not redeemable for cash.
Liability Waiver
Culinary activities such as Cooking Classes at Casa Carboni have inherent risks, dangers and hazards and participation in such classes and events may result in injury or illness. Casa Carboni, and each of it's present owners, agents and employees are not liable for damage, losses or personal injury resulting from participation in Casa Carboni Cooking Classes or events.
Appropriate Attire
For safety reasons we discourage guests wearing high heeled shoes and guests must wear closed in shoes during all cooking classes.
Photography & Filming
Cooking school guests are welcome to take still photographs during their cooking class or cooking demonstration and afterwards in the enoteca. The filming of cooking classes in the kitchen and afterwards in the enoteca is not authorised, unless written permission is given. If a commercial photographer or film crew is present during a cooking class, guests will be asked to sign a release form and have the right to not be included in the photographs or filming.
It is appreciated if non cooking school guests ask permission prior to taking photographs of the interior of Casa Carboni. It is not permitted for non cooking school guests to take photographs of cooking school guests while a class is in progress.
+ More
---