Preserving at Home with A Bit of Jam & Pickle
---
Book Now (http://weteachme.com/l/3bgKx2or)
---
Description
** Should this page be showing no dates available, please go to this link
Is your garden a bountiful delight, not sure what to do with your excess produce? This hand on workshop will focus on the principles of making jams, preserves and marmalades for yourself and gifts. You will learn how to extend the value of your produce and experience the joy of learning cooking skills that will assist you in becoming more self sufficient in your kitchen. You will get to take home your a bounty of handmade goodness.
Our December 2018 participants will be making:
Red cabbage sauerkraut
Kimchi
Strawberry jam
Zucchini pickle
Harissa relish
CERES members and concession holders are entitled to a 10% discount. Enter "ceresmember" under the promotion and gifts code field.
*Please note that the CERES member or concession discount does not apply to "Bring-A-Friend" tickets which are already discounted
Trainer Bio:
A Bit of Jam & Pickle combines the bits about Caroline's work that she loves the most - teaching, creating products & cooking for appreciative folk.
For Information on our cancellation policy please click here
+ More
What you will learn
How to preserve surplus foods
Understand how to make jams
Improve your culinary skillset
What you will get
Samples of what they make
Recipes to take home
---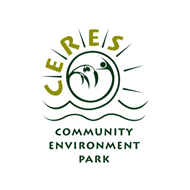 CERES - Centre for Education and Research in Environmental Strategies, is an award winning, not-for-profit, sustainability centre located on 4.5 hectares on the Merri Creek in East Brunswick, Melbourne.
It is also a thriving community, an urban farm, Australia's largest deliverer of environmental education, an event and conference venue and a place rich with social and cultural diversity. CERES is recognised as an international leader in community and environmental practice.
Built on a decommissioned rubbish tip that was once a bluestone quarry, today CERES is a vibrant eco-oasis. 350,000 people visit CERES each year. Many more engage with us through our Sustainable Schools program which takes sustainable education into schools across the state.
CERES' green technology displays, buildings, education and training programs and social enterprises (CERES' Organic Market, Café, Permaculture Nursery and Fair Food organics delivery) demonstrate food security, sustainable agriculture, energy efficiencies, renewables and water conservation in action.
CERES is a model for a future with sustainability, innovation and connectedness at its heart.
Come, be welcome, you never know what you will find on our rambling paths.
+ More