Aromatherapy - an Introduction
---
Book Now (http://weteachme.com/l/dg7Rxwor)
---
Description
Aromatherapy acts in accordance with holistic principles, awakening and strengthening vital energies, psychic equilibrium and physical imbalances. Essential oils can be used powerfully in healing and supporting the body's emotional and physical well-being.
This is a hands-on workshop designed for those just beginning to learn the benefits of aromatherapy on the body and mind and covers the history and use of essential oils. You will learn the four basic ways to use aromatherapy and how it works to enhance your life and wellbeing and implement them into everyday life. This workshop is designed for those just beginning to learn the benefits of aromatherapy so bring along your ideas of how aromatherapy may be able to assist you so that the workshop can be tailored to those present.
You will learn the uses of carrier oils and essential oils, how essential oils are blended and diluted, when to use essential oils, how to use them safely and which oils are best for various conditions. Come away knowing how to make your own products that can enhance your life. You will make your own blend in a cream, a roll on form and in sea salts.
*Our May workshop will also cover warding off colds with aromatherapy
** The teachings of this workshop should not replace personal judgment nor medical treatment when indicated, nor is it intended to diagnose, treat, cure or prevent any health condition*
CERES members and concession holders are entitled to a 10% discount. Enter "ceresmember" under the promotion and gifts code field.
*Please note that the CERES member or concession discount does not apply to "Bring-A-Friend" tickets which are already discounted
Trainer Bio:
Carol Kovacic from Amazing Scents Aromatherapy is a busy mum who is passionate about using Aromatherapy in her everyday life. Her work with Amazing Scents allows her to pass on this knowledge and she loves to teach people how to take control of their own health and environment and benefits of Aromatherapy.
For Information on our cancellation policy please click here
+ More
What you will learn
Learn the four basic ways to use Aromatherapy
Benefits and actions of essential oils
How to make blends and creams at home
What you will get
Your own blend in a cream
Your own blend in a roll-on form
Your own blend in sea-salts to use in the bath or as a foot soak
---
What to bring
Notepad
Writing materials
---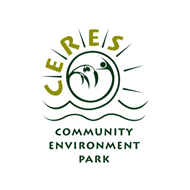 CERES - Centre for Education and Research in Environmental Strategies, is an award winning, not-for-profit, sustainability centre located on 4.5 hectares on the Merri Creek in East Brunswick, Melbourne.
It is also a thriving community, an urban farm, Australia's largest deliverer of environmental education, an event and conference venue and a place rich with social and cultural diversity. CERES is recognised as an international leader in community and environmental practice.
Built on a decommissioned rubbish tip that was once a bluestone quarry, today CERES is a vibrant eco-oasis. 350,000 people visit CERES each year. Many more engage with us through our Sustainable Schools program which takes sustainable education into schools across the state.
CERES' green technology displays, buildings, education and training programs and social enterprises (CERES' Organic Market, Café, Permaculture Nursery and Fair Food organics delivery) demonstrate food security, sustainable agriculture, energy efficiencies, renewables and water conservation in action.
CERES is a model for a future with sustainability, innovation and connectedness at its heart.
Come, be welcome, you never know what you will find on our rambling paths.
+ More