Seeing The Path in Colour with Zeb Brierley
---
---
Description
Seeing the Path in Colour - Looking Beyond Black & White
Facilitated by Zeb Brierley, Registered Art Therapist, Spiritual Counselor
A workshop using art therapy combined with spiritual values to shed light on the choices you have made and the impact on how you live your life today. Zeb brings a creative approach to seeing how you are currently living your life driven by old belief systems. It is a workshop that will be enlightening as well as enjoyable as you see the path you have chosen - an opportunity to recognize the life challenges that you have allowed to either grow or stunt you and what decisions you need to make to change the picture. This workshop does not require artistic ability as it is about the process and the story that will be uncovered from the product made.
About Zeb Brierley
Zeb brings years of experience to her current work. She has had a background as a drama teacher and actor before retraining for the work she has been committed to for the last 15 years. She lectures in art therapy as well as having her own practice in the Gippsland region where she regularly runs groups and does individual consultations. Her work has at its core, a spiritual approach informed by values that inform a conscious way of living one's life with accountability.
For further information please contact Zeb on 0413 705 246 or zeb@zebarttherapy.com.au
*This event may be postponed in the case of insufficient bookings.
*Please note: Tickets to this event are non-refundable, however, with a minimum of 48 hours cancellation notice you may transfer your ticket to another date. Please contact us to arrange this at - info@colouryourworldart.com
+ More
Class Schedule
When: Sunday 17th September Time: 10am-5pm Duration: 7 hours
What you will learn
Shed light on the choices you have made in life
The impact these choices have had on your life
What old beliefs you are holding onto, plus much more
What you will get
A creative approach to seeing the path you have chosen
Gentle guidance from a professional art therapist
Self-belief and inspiration to continue your journey
All materials are supplied-just bring yourself!
Healthy morning tea and refreshments
Wheelchair facilities are available
---
What to bring
Casual clothes, it may get messy
Lunch, full kitchen facilities are available
What to wear
Comfort, Casual
Appropriate for
Suitable for adults and teens over 18yo, no artistic experience is necessary
---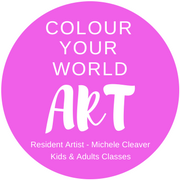 Michele Cleaver
A contemporary Artist based on the Mornington Peninsula, Michele's mission is to inspire, educate & uplift people through art. Her personal belief is that art & colour play an important role in our lives. Greatly influenced by colour, her art generates feelings of love, light & joy. She enjoys the flexibility of painting with acrylics, using texture, collage, and exploring various mixed media works.
Michele has been working with art for over 20 years, including teaching art to various groups of people. Her painting styles are numerous and include fine detailed work to creative and colourful abstracts.
+ More
---
Cancelation & Refund Policy
*Tickets to all classes are non-refundable, however, with a minimum of 48 hours cancellation notice you may transfer your ticket to another date. Please contact me to arrange this at - info@colouryourworldart.com
+ More
---