Description
Our instructors will then present a cooking demonstration and provide Vegan entree main and dessert. Our instructors will guide you through the recipe step-by-step as they cook the dish.
Consider a class where you learn how to make recipes that spark metabolism and energy. It's like being in a Naturopathic classroom In other cooking classes you can learn unhealthy practices. Not here! Anti Ageing Recipes etc …
+ More
What you will learn
Learn how to prepare and cook many favorite Vegan dishes from our extensive list of recipes.
Encouraging you to practice Vegan cooking techniques.
Learn how to make Vegan recipes that spark metabolism and energy.
What you will get
Expert tuition from an experienced teacher.
Take home notes and repeatable menu
A delicious THREE course dinner
Mingle with other Vegans and Vegetarians
---
Appropriate for
Vegan Vegetarians
---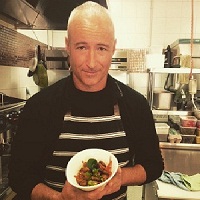 Cooking Classes Perth presenter Paul Werndly ND has over 20 years experience as a naturopathic practitioner and medicinoculinary cook, as well as a naturopathic lecturer for 12 years in the fields of natural medicine and food as medicine.
Paul's classes are unique in the way they have a three pronged delivery:
You not only get the recipes and tastings, but also naturopathic notes and naturopathic laws, principles and healthy cooking techniques.
The recipes are all prepared and selected in accordance to the 26 naturopathic laws – laws which originated within the ancient cultures.
Paul was featured as Celebrity Chef at the 2011 Perth Caravan and Camping Show and regularly presents to corporate clients like the Red Cross, Chevron, Gorgon Upstream, Briscoe Search, Clough, the WA Government and Affordable Living. He was also a naturopathic writer/article contributor to The West Australian Newspaper.
+ More