Like weely giveaways? Like exclusive classes? Like special offers?
Then your'll love our Newsletter!
Term 1: Well-Versed Level
---
---
Description
Need a French start for 2014?
Cosmopoli'French is introducing exclusive workshops for the new term starting on Monday, 3rd of February 2014. We will explore new venues and enjoy new French experiences during our upcoming nine week journey.
This Well-Versed Level Class is for you if:
You have excellent grammatical skills.

You

feel confident using the subjunctive and the conditional.

You

have been highly exposed to the French language and have impeccable listening comprehension skills.

You are

able to express yourself about any topic even though you still need to broaden your vocabulary.
NOTE: The All Inclusive Package price includes one course + a drink during our "Say it with Food" workshop. (Students who have chosen the Essential pack will be paying for their meals and drinks.)
+ More
What you will learn
Speak French like a native
Master French grammar and vocabulary
Develop your writing skills
What you will get
9 week term (9 x 1.5 hour workshops + material provided)
9 learning kits (preparation for the next session)
Extras for All Inclusive Package: Grammar Book - Practice Makes Perfect /Complete French Grammar + Pass to attend our Yoga in French workshop + Catering during "Say it with Food" workshop
---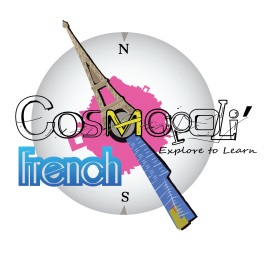 A French Class in Melbourne, a Cultural Lesson on France
At Cosmopli'French, we believe the best way for you to learn is to take you from a basic French class in Melbourne to a cultural lesson in France. Although no travel takes place, we transport you to France through cultural learning experiences.
Food
An influential cultural experience for any country is their food. Food speaks volumes about the traditions and family beliefs as well as the taste experience and the flavours behind the words. We offer eventsand classes on an ongoing basis to teach you French through your belly and into your mind.
Music
Music evokes thoughts, feelings and memories for most of us. Hear a favourite song on the radio and you are often transported to a time and place you last heard it. It is this combination of memory and culture that we believe helps one learn more effectively. We offer music based courses as one of the techniques to help a French Class in Melbourne transport you to a better learning of France and its culture.
Film
Foreign film is not only an international art, it is also a wonderful way to listen and appreciate the fluidity of a language and learn proper pronunciation. We use film to continue your learning and understanding of both the language and the influences of life in France.
A Day in the Life
Bringing you closer to the typical life and situations in France will allow you to emerge in their culture instead of feeling like an outsider. On your journeys to any country understanding their culture means understanding their unwritten rules and social skills. We introduce you to the do's and don'ts as well as where to visit in your travels.
These are just a few examples of how we transport you from a basic classroom setting to engage your senses to better understand the culture. We invite you to join us on our journeys and begin learning not just French, but France.
+ More
---
Terms & Conditions
Absentee Policy
If for some unforeseen reason, you are unable to attend a class, we will provide you with a learning kit to help you get ready for the next atelier.
Cancellation Policy
If you wish to cancel your attendance to the course during the term, please understand that "Cosmopoli'French" cannot reimburse you but you can receive a voucher to attend a course for the following term.
We reserve the right to cancel classes which do not meet the required minimum number of participants enrolled by the cut-off date. A full refund will be given to enrollees in this instance.
+ More
---