Description
Fire performance has been rapidly growing over the last decade. If you're looking to learn an extraordinary skill - fire hooping certainly tops the list. If you're keen on burning calories in a whole different kind of way, now is the time to add real heat to your regimen.This course covers the basics for first time fire hoopers, including starting skills, fire safety guidelines and fire spinning techniques. The class is ideal for anyone that has not used hoop before or has a grasp of a few movements.
This beginner course runs for 8 weeks, every Monday night at Point A, a community training warehouse in Adelaide City. No experience is necessary, but class is recommended for those aged 12 years and above.
+ More
Class Schedule
Mondays 7:00 PM - 8:00 PM (Duration: 1 hour)
What you will learn
Learn the essentials to getting started in fire hooping and spinning
Learn various tips & techniques
Gain a complete learning experience!
What you will get
Expert tuition from an expert coach!
All equipment provided
---
Appropriate for
All ages [recommended 12+] (No Experience Necessary)
---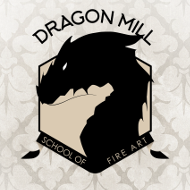 Dragon Mill - School of Fire Art, is a place to learn the arts surrounding fire performance. We offer an environment to learn and progress at any skill level in disciplines pertaining to fire art, Poi, Staff, Hoop, and more. Dragon Mill is the place for the fire community (both performing and nonperforming) to meet, and grow further.
We aim to continually refine and further the services we are able to offer - to include more fire performance skills, more directed training, and the best possible environment for development.
+ More
---
Cancelation & Refund Policy
If for some reason you are unable to attend the remainder of a course - the remaining number of sessions can be credited to you for future courses. In extreme circumstances, if you are unable to attend future courses, we can refund you the amount attributed to remaining sessions.
+ More
---