Vegan Dumpling Mania Workshop
---
Next Available: Sun, 03 Mar 11:00AM
Book Now (http://weteachme.com/l/dSSAg5Ar)
---
Description
Vegan Dumpling Mania is where you learn to transform readily available vegetables such as bamboo shoots, cloud ear, water chestnuts, and more into vegan dumplings.
Hands-on learning in a small group ensures everyone will receive abundant personal instruction. This is an introductory class in which you will transform the ready-made wonton wrapper into various shapes, which can be cooked by steaming, boiling or deep-frying. We will also make the irresistible crispy spring onion pancake. We feast on the dumplings matched to various sauces and accompanied by very more-ish soba noodle salad and Asian vegetables, tossed with a ginger, lime, and sesame dressing. Along with the recipes for what we make in class, you will receive bonus recipes and fact sheets. This workshop takes place inside the Made in Japan Homewares space, a warehouse showroom that has an inspiring artisan ambiance.
Please note recipes for this masterclass may be altered if an ingredient is not available. If you are interested in learning a particular recipe that is not listed here, please refer to other Dumpling Mania classes listed on weteachme.com. You are welcome to send me a message via the contact form on dumplingmania.com
DISCLAIMER RE FOOD ALLERGIES OR INTOLERANCES: Dumpling Mania / Lou Wong / dumplingmania is unable to cater for any food allergies and intolerances. I am unable to guarantee any products used in my recipes are free of nuts. Some products may contain traces of nuts or msg. CARWARI Toasted sesame oil has on the label: May contain traces of tree nuts. It's cold-pressed from Central American Sesame and is a product of Mexico (but is a Japanese brand Carwari);Yeo's sesame oil has no mention of 'tree nuts'. (product of Singapore) Other sauces or products used in which there is no mention of nuts on the label: Lee Kum Kee or Megachef Oyster sauce; Kikkoman or Pearl River Soy Sauce: La Pedriza Grapeseed oil, Al Arz Tahini/Sesame paste; Chinkiang Black vinegar (glutinous rice, wheat bran, salt, sugar).
+ More
What you will learn
Master pleating techniques
Recipes for different vegetarian fillings and dipping sauces
What you will get
Confidence to make vegan dumplings at home
13 pages of recipes, fact sheets and shopping info
PARKING: free car parking behind store
TRAMS: #1 or # 12, minutes from the CBD
ACCESSIBILITY: accessible for wheelchairs/walkers
---
What to wear
Casual clothes + shoes with covered toes
Appropriate for
Vegans and friends of vegans
---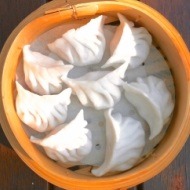 Hello there, dumpling lover! The Age/What's on summed it up best: "Adults, teenagers, even kindergarten children - there's no one Lou Wong can't teach dumpling-making to..."
Making dumplings as a child with my mother and siblings gave me priceless memories. I teach at Melbourne's best cooking schools (see dumplingmania.com for more info). You can completely delve into making and eating dumplings because my assistant does the dishes.
Here's why people love to make dumplings with me and why I've been invited to teach at Melbourne's best cooking schools:
@ieatmelbourne (Rob from Instagram).........I did a dumpling class with Lou...it's amazing that being away in Hong Kong & Singapore I've come across all of the different dumplings that we made...I wouldn't have appreciated the experience half as much without your wonderful knowledge Lou. If you're a dumpling lover you have to get along to one of her classes! #bucketlist
Lou is a powerhouse of energy, information and passion!! Loved the fun-filled & most enjoyable dumpling making workshop. Highly recommend to all foodies!! - Sharon
+ More
---
Cancellation & Refund Policy
Refund Policy: If you wish to receive a refund for a ticket or gift voucher, please email me via the CONTACT page on dumplingmania.com within 14 days prior to the date of the class . A refund will be payable less 20%. Sorry, no refunds payable thereafter.
Transfer Policy Provided you notify me 10 days prior to the date of the class, you may apply the ticket cost towards the next session of the workshop/class. You may email me via the CONTACT page on dumplingmania.com; if you do not show up for the class, there will be no transfer or refund.
+ More
Terms & Conditions
By booking and paying for a class with Lou Wong, it will be deemed that you have accepted these terms and conditions. In the event you are unable to attend the class on the scheduled date, please refer to my refund policy. In the event the class is canceled due to unforeseen circumstances beyond my control, a refund will be payable or the class ticket will be valid to redeem at another date within the following 12 months.
Disclaimer: Utmost care is taken in providing notes, recipes, information and instructions in the delivery of the class to each participant however, by paying for the class, you agree that the individuals known as Lou Wong, Louelyn Wong and the entities of Lou Wong Pty Ltd, Lou Wong Pty Ltd trading as Dumpling Mania will not assume any responsibility or liability resulting from your attendance of the class, your consumption of any food or beverages supplied during the class, as well your use or interpretation of the notes, recipes , information and instructions provided either verbally or in writing, subsequent to your attendance to the class, as permitted by the laws of Victoria. The provision of the notes, recipes, information and instructions in the course of the delivery of the class does not transfer any rights to any individuals or entities and this information may not be duplicated, shared, posted, copied, transferred in any form through any medium or app at any time without the express written permission of Lou Wong Pty Ltd.
+ More
---