Description
WANT TO LEARN TO KITESURF?
GoKite offers professional kiteboarding tuition to get you riding fast, and make sure you stay safe, while having maximum fun.
Learn to kite board with some of the best Kiteboarding instructors from around the world. Our training programmes are based on the International Kiteboarding Organisation (IKO) standard alongside our highly proved tried and tested teaching methods.
GoKite offers the opportunity to try Kiteboarding with the "Get Hooked" or "Get Wet" passes, but once you become hooked we offer great value "upgrade" packages to continue your learning progression to becoming a competent Kiteboarder.
Lesson prices include all top of the range Cabrinha equipment and NP Surf accessories and safety gear. So to get started you'll just need beachwear and bathers.
We recommend that our "Get Riding Course" is divided into 3 sessions over 3 different days so that you get the most out of your course. Students can usually manage 2 hours of lessons per day.
Opening Hours: Monday to Sunday 09:00 - 20:00
Note: If it's daylight & windy, we teach - all year round.
Monday to Sunday 09:00 - 20:00
+ More
Class Schedule
Duration: 6hrs – over 3 sessions (1 person)
What you will learn
Includes GET WET package
Upwind body dragging & self rescue
Standing up & board riding skills and Launching & landing the kite
What you will get
Quality kiteboarding coaching for all levels
Excellent customer service and aftercare
Honest equipment advice
Will never run lessons in unsuitable conditions
Lessons run til 8pm for after work and school convenience (daylight permitting)
Option to learn between our three teaching locations
All kiting and safety equipment is provided.
---
What to bring
Your water bottle
Sunscreen
Beachwear
Towel and bathers
---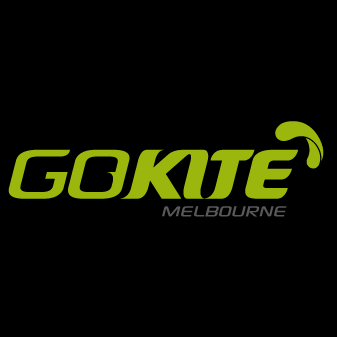 GoKite Melbourne
Want exceptional kitesurfing lessons? Learn with Australia's Premier Kiteboarding School, GoKite. GoKite offers the highest standard of kiteboarding tuition to meet your needs.
We are an International Kiteboarding Organisation (IKO) affiliated teaching centre – one of the first in Victoria, Australia. Our instructors are all IKO qualified and our lessons are based on IKO standards.
GoKite operates at Melbourne's most central teaching location – West Beach, St Kilda, the Gippsland coastal town of Inverloch, and Rosebud situated on the Mornington Peninsula. These locations are some of the top spots in Australia, with waist deep water and great steady wind throughout the year.
Our mission is to get you riding fast in the safest environment while having maximum fun. Included in your lessons you'll have access to industry leading equipment from Cabrinha Kites and NPSurf.
Why GoKite?
- Invest in our lessons, invest in your safety
- We have some of the worlds best, most experienced instructors
- We use the best, latest gear from the worlds leading brands
- We have multiple locations to enhance your learning experience
- We never run lessons in un-suitable conditions
- You'll receive honest expert advice for your lessons and when it comes to buying gear thats right for you
- We are open 7 days a week
- We are open until sunset during the summer which means after work and school convenience
- We are Australia's Premier Kiteboarding School!
+ More