Go Down The Line - Kids Surf Lessons (Anglesea)
---
---
Description
Go Down The Line
3 x 2 Hour Lessons
Qualified Surf Instructor
Surfboard Hire / Wetsuit Hire / Rash Vest Hire
Anglesea learn to surf on the Great Ocean Road is a fantastic place for surf lessons. Conditions are ideal for surf lessons or surf hire with beautiful clean water, a safe beach, and one of Australia's best learn to surf destinations!
Anglesea is a gorgeous, small coastal town where the bush meets the sea, with the many stunning advantages of both bush and sea.
We also have a wide range of surf hire available, which includes a full range of soft learner "Gboards" and a full range of NSP hardboards designed for intermediate and advanced surfers. We also hire out wetsuits, stand up paddle boards, sit on top kayaks and bodyboards.
How to get there
Go Ride a Wave shop is on the Great Ocean Road opposite Anglesea Main beach. Coming from Geelong drive into Anglesea, go over the river, 800 m past the bridge there is a sharp right hand bend with a group of 5 shops on the corner traditionally known as the "Four Kings". Go Ride a Wave is next door to the Home Hardware.
Note: Bookings cannot be made for the following day after 5pm local time in Victoria.
+ More
Class Schedule
Duration: 3 x 2 Hour Lessons
What you will learn
Basic water safety
Building confidence in the water
Body surfing and diving under waves for beginners
What you will get
3 x 2 Hour Lessons
Qualified Surf Instructor
Surfboard Hire / Wetsuit Hire / Rash Vest Hire
---
What to wear
Wear clothes suited to the weather on the day
Appropriate for
Designed specifically for kids aged 17 & Under.
---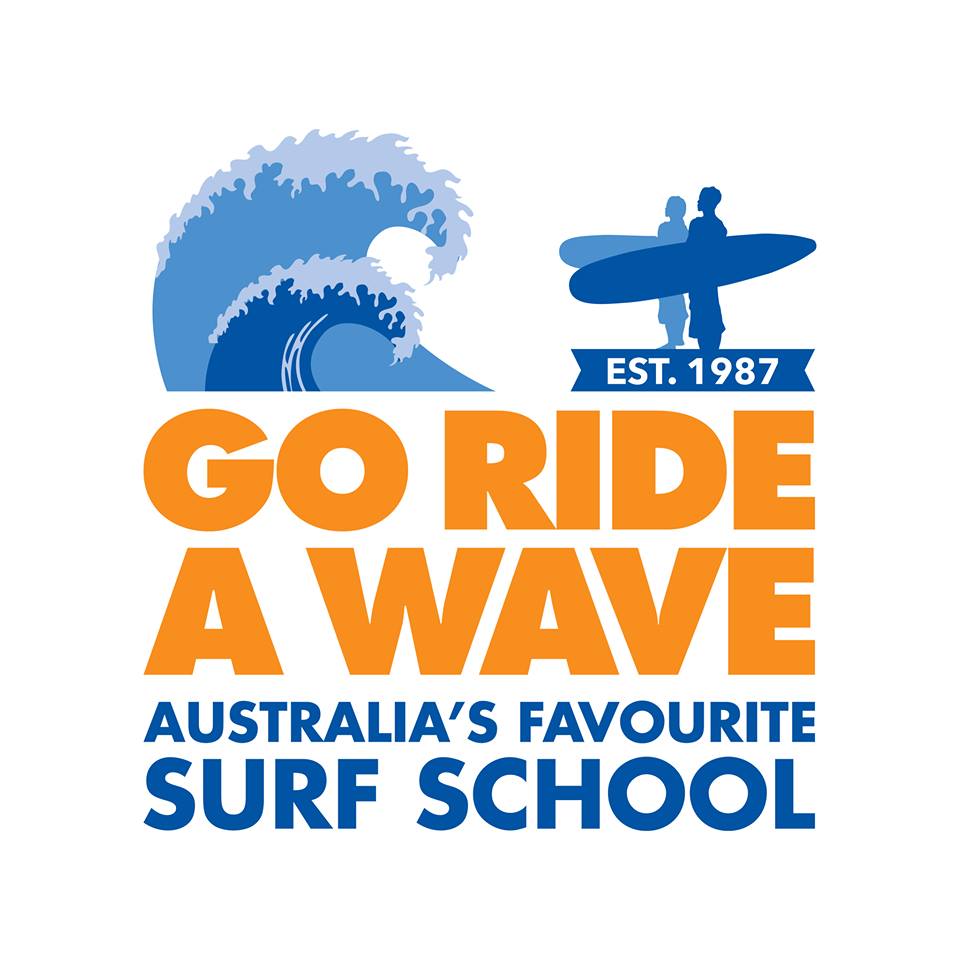 Our business was established in 1987 in Anglesea, Victoria and now takes care of more than 50,000 customers every year from multiple locations along the Great Ocean Road – Wye River, Lorne, Anglesea, Torquay and Ocean Grove.
In addition to the Victorian Surf Coast, we now operate in Surfers Paradise, Broadbeach and at Northcliffe on the Gold Coast and Noosa Heads on the Sunshine Coast.
We are passionate about Go Ride A Wave, and it is our great pleasure to share the joys of surfing and other outdoor recreation activities with our valued customers.
Go Ride A Wave helped to create the surf school industry standards and is a member of the Surfing Australia surf schools. We take very seriously our obligation to provide a safe and enjoyable experience for our clients, as well as protecting the environment and other users, while we conduct our activities.
Today we provide a diverse range of outdoor recreational activities including surfing, bodyboarding, surf life saving, surf carnivals, surf safety, lifeguarding, sit on top kayaking, "Surfgroms", stand up paddle boarding (SUP) and corporate and team building activities.
More about Go Ride A Wave
Go Ride A Wave has 4 directors with a full time team based in Anglesea including an accountant, a national group bookings manager, a marketing/business development manager, a staffing and logistics manager and a national maintenance manager. We have a structured pathway for staff who begin with us as assistant instructors with basic qualifications and limited experience.
The next level is to become a senior instructor – who has all the required qualifications for our various activities and significant experience, and then the next level is Instructor In Charge. These are the staff who arrange all the boards and wetsuits before each lesson and then also pack up and wash gear after the lesson. They are also in charge of everything that happens at the lesson. We do also have some seasonal full time staff who are chosen from our best Instructors in Charge.
+ More
---
Cancelation & Refund Policy
Surfing lessons will not be cancelled due to rain, but maybe cancelled if the conditions are deemed to be dangerous, or if the surf is too small to run a class.
All customers will be given a refund or a credit if the class is cancelled.
Refunds will be given to clients if they cancel their lesson, and providing they give Go Ride a Wave at least 24 hours notice. If clients fail to arrive or cancel on the day, then they will forfeit their payment.
+ More
Terms & Conditions
All classes need to be booked via the website booking form or by calling 1300 132 441.
Internet bookings will only be accepted if payment is made at the same time.
Surfing lessons will not be cancelled due to rain, but maybe cancelled if the conditions are deemed to be dangerous, or if the surf is too small to run a class.
All customers will be given a refund or a credit if the class is cancelled.
Refunds will be given to clients if they cancel their lesson, and providing they give Go Ride a Wave at least 24 hours notice. If clients fail to arrive or cancel on the day, then they will forfeit their payment.
All customers must complete a booking form either on the web or before the lesson, and sign the assumption of risk form prior to each class.
Kids prices apply to customers 17 years and under on the day of the class.
Package classes must be taken within one calendar year of the date of the first class.
Vouchers must be redeemed within one calendar year of purchase
+ More
---