2017 Pottery & Sculpture: Wed 6pm-8:30pm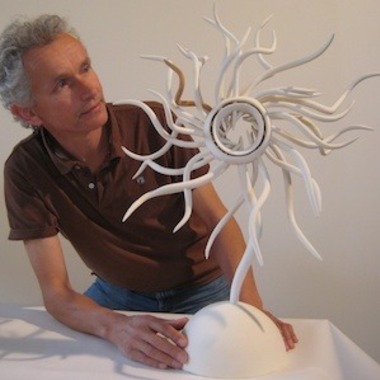 ---
Next Available: Wed, 06 Dec 6:00PM
---
Description
Expert and experienced tuition
Graham Hay has taught these classes since 1998.
An internationally recognised expert in ceramics and ceramic education, he is regularly invited to teach interstate and in a dozen countries.
Expert in teaching both beginners and previously experienced students.
All teaching will be customised to suit your own personal background and preferences, so you can learn and make what interests you, at your own speed.
See below a very short video of a random mix of beginners and long term students.
Reviews
As an incentive to constantly improve my teaching, since 1999 I have recorded both good and bad reviews of my 200+ workshops here.
Or find other reviews via Googling: reviews "Perth Pottery and Sculpture Classes" to gain an impression of your likely experience.
To ensure you are absolutely happy, I urge new students to only buy and attend their first lesson, before buying more lessons.
Small, highly individual classes
The classes are small, with a weekly average of 6 students per class.
Only one or two new students join each class group at a time.
This ensures you receive greater support and encouragement from the teacher (and other students), compared to a large class of just beginners.
Plus both you and the regular students receive plenty of individual assistance.
This also means that you, regardless of your level of experience, are looked after and made most welcome.
You will receive timely instruction and advise whenever you require it.
Incermental expert advise means you can work at your own pace.
Because of this individual expert instruction, all students may pause, and resume (subject to space), their attendance. Regardless of reason (health, work, family, holiday, travel etc). Your class credit is preserved, provided you send a text or email, prior to the beginning of the lesson, and include a new date of return to class.
This means attending all students are healthy, happy and a relaxed atmosphere.
This also creates socially dynamic classes, with students appearing, disappearing and then re-appearing week by week.
As no two students make the same work, you can also learn also from fellow students, and the other studio artists.
Based upon your individual preferences, confidence, prior skills and knowledge, Graham introduces simple steps for you to create your work.
Many enjoy the classes being held within an open plan studio, surrounded by friendly, professional working artists.
The relaxed environment is enhanced by the light filled, high ceiling studio enviroment, within a beautiful inner-city park.
Try before you buy more lessons
Pre-pay for the first lesson only.
Then decide during the first lesson if you wish to continue with further lessons.
IIf you purchase further lessons during the first lesson you receive an immediate $114 discount (e.g.: 12 lessons is $842 - $114 paid = $728 outstanding, with 11 lessons remaining, i.e. a $44 savings on your first lesson). This initial discount only applies if further lessons are purchased during the first lesson).
You decide how many classes you attend, and so how much you pay per future lesson:
New students are urged to first read Try before you buy (just above).
2017 Fees
number cost (average $/class)
1 114 114
6 536 89
8 658 82
10 742 74
12 842 70
15 977 65
18 1,028 57
21 1,136 54
25 1,277 51
30 1,442 48
35 1,542 44
EFTPOS and all major credit cards accepted.
Lessons bought in one year can be used in future years, eg: lessons purchased in 2015 are valid also in 2016 & 2017.
Graham Hay has taught these classes since 1998.
2017 Class day and times
Wednesday: 12 noon - 2.30pm
Wednesday: 6 pm - 8.30 pm
Friday: 9:30 am - 12 noon
Saturday: 1pm-3:30pm
(Confirm here, that any class is currently running)
Venue
A Creative Space.
The classes (est 1998) are held in the Robertson Park Artists Studio, in the middle of the southern lawn of Robertson Park, Perth, Western Australia.
The studio is a spacious, light-filled space, leased from the City of Vincent by a group of professional artists. Annual Studio Newsletters.
+ More
What you will learn
How to quickly select (or develop) an idea or process, suitable to your own confidence and skill.
To progressively master both traditional and contemporary clay techniques.
How to make your work, by simple, short, incremental steps, at your own speed, with expert tuition.
What you will get
New, and increased knowledge, skill and confidence with clay.
Start classes when you are ready, pause and resume when it suits you, without penalty (just let us know).
Try before you buy: Buy only the first class. Decide at that class how many lessons you want (generous discounts).
Free 10 kg bag of soft clay, and use of studio tools and equipment.
Free parking, tea and real coffee.
Welcomed into a supportive community of similar, like minded students and artists.
---
What to bring
Bring any drawings, pictures, digital images you might have (optional).
What to wear
An old shirt or comfortable clothes. Covered shoes are necessary as this is a working studio.
---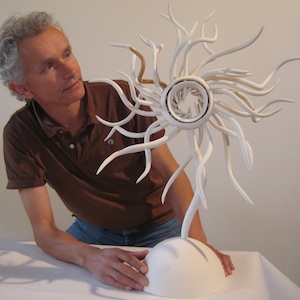 Graham has taught ceramics since 1992.
He is nationally and internationally recognised as an expert in both ceramic art and also ceramic education.
Background:
Graham specialised in ceramics at high school and Teachers College, and holds separate degrees from UWA, Edith Cowan, and Curtin (hons) universities.
His work has appeared in 150 exhibitions in ten countries, and is in public collections in six countries.
Graham has taught over 200 workshops in 12 countries, and co-lead Hungarian and US international ceramics conferences and symposiums (see http://www.grahamhay.com.au/workshops.html).
Authored 25 articles in ceramic journals in six countries.
Graham is very experienced teaching at absolutely beginners, intermediate and expert levels.
Frequently teaches in schools, tertiary institutions, groups of beginners, professional artists and educators (website).
Focuses on assisiting all students master techniques, gain confidence, relax completely, and produce amazing work.
Generous by nature, he shares over 200 pages of information on http://www.grahamhay.com.au. Visit it and be inspired.
Read online reviews going back to 2009. Just cut and paste
perth+pottery+and+sculpture+classes "review"
then Google it.
Graham is committed to excellence in ceramics education. So, since 1993 he has been recording all positive, and negative, student evaluation sheet comments verbatim from all workshops at http://www.grahamhay.com.au/comments.html
He regularly travels globally to share with and learn from fellow ceramic expert teachers.
+ More
---
Cancelation & Refund Policy
common sense refund policy
Credits are transferable but not generally refundable (but this does not diminish your statutory rights).
+ More
Terms & Conditions
1. Courtesy Saves: If you can't attend any class, your lesson credit is only protected (ie "rolled over") if you email or text me before the lesson, AND provide a specific "date of return to class".
This information is essential to prevent too large or too small classes.
I will confirm receipt of you text or email, and that your place in the class reserved.
If you do not provide a return date your balance will decline each week. When your balance reached zero, your shelve will be cleared (to make space for new students) and all clay recycled.
If you let me know via email/text, lessons can be rolled over for up to 2 years.
2. Similarly, if you are returning to classes after a prolonged absence, please contact me well before to ensure a place is reserved for you.
3. You can change which day and time you attend classes, and even attend more than one lesson per week, provided you have first discussed it with me, and there is space in the class.
4. If you are likely to be away for more than two months, you will be asked to temporarily take your clay and creations home (so to make space for new students, and to encourage you to keep making at home). Upon your return a space will be again made available for you.
5. Want more flexibility? Just ask.
+ More
---