Italic Calligraphy Course x 4 Saturdays
---
Next Available: 28 Oct 10:00AM
---
Description
Italic – From a formal hand to contemporary variations for All Levels
Introduction to the Italic Hand. Learn an elegant, formal Italic hand using the historic Cataneo Manuscript as a model. Create your own personal script style. Lessons are based on exemplars written by Bernadino Cataneo from a Copy Book which was printed about 1545AD. This austere hand known also as Chancery Cursive, is the model for the Italic hand in use today. Learning from historic forms will serve as a springboard for an exploration of modernised letter forms and expressive scripts.
Students will first learn the minuscules or small letters and how to develop consistent letter shapes and word flow. From there you will learn how to form the capital letters (Majuscules) based on Roman Capitals. Then how to capture rhythm and energy through the addition of flourishes. How to mix and use colour, variations in size and style to enhance your layouts. Students will be introduced to many varied materials such as inks, gouache, nibs, special papers and techniques to use them successfully. Step-by-Step techniques will be taught on how to make an interesting composition. Learn create small artwork projects.
Four or six weeks of one day themed workshops. Each lesson includes extra pen skills, a layout technique and a mini project.
Students may choose to attend parts of the course if they have established italic skills.
Themes for each workshop are:
Italic script lowercase, establish all strokes, form & shape
Develop regular letter and word spacing, how to rule up lines and experiment with line spacing.
Italic Capitals - Two variations of caps. How energise capitals through the addition of swashes and flourishing.
Contemporary italic variations. Create compressed & stretched forms. How to make a simple layout.
Using contrasts: colour, size, weight & style variation and combining them to enhance a simple layout.
Create textures, changes to slope and letter widths and heights. Make a more interesting composition.
Students with Italic Experience may join the course for any one-day themed class. Your current italic skills will serve as a springboard for an exploration of modernised letter forms and expressive scripts.
+ More
Class Schedule
Sat 28th Oct to 18th Nov 2017 10.00 am – 4.00pm $350.00
What you will learn
Classic formal italic – establishing the foundations of italic script.
Step-by-Step techniques will be taught on how to make an interesting composition and create finished projects.
Learn Italic variations – compression, expansion. How to add swashes and draw flourishes as separate designs.
What you will get
Booklet containing a comprehensive set of notes & instructions
Each one-day workshop is themed, each lesson covering a specific topic aimed to build your skills
Full course students all receive a starter kit PLUS extra nib to keep. PLUS colours & tools & much more to use during the course. Value $60.00
Full course students all receive Individual On-line feedback between classes
Italic workshops have 6 themed Lessons and a mini project
Loads of individual student attention
Access to a large reference library for inspiration and ideas
Light refreshments - drinks, tea and chai and snacks
One-Day students receive starter kit with all the supplies you'll need for the day, this is to keep. Value $30.00
---
What to bring
Your enthusiasm to learn!
Experienced students please bring your usual calligraphy kit, including extras you know and use.
A note book for extra incidental tips and techniques
A list of simple materials listed available on enrolment
What to wear
Casual (This might get messy)
Appropriate for
For enthusiastic admirers of beautiful letters, beginners and experienced calligraphers of pen and brush, tattoo artists etc.
---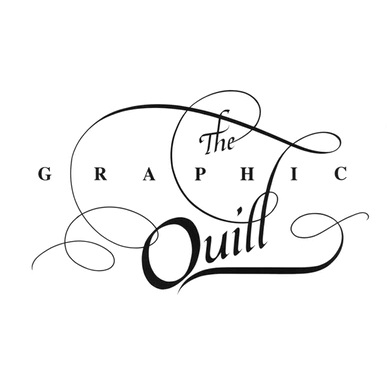 About Me "Lauchean" Your Teacher
Bringing an influence of tradition & craft to the table, I'm essentially a calligrapher, teacher, hand-lettering artist who works with letterforms to create art through design.
I fell in love with calligraphy even before I discovered what it was called.
This love of "Beautiful Writing" lead me to study "Ticket & Show Card Writing".
A small moment in time that has shaped my life.
I returned to study Art & Design as a mature aged student, then, on winning top folio in the state on Graduation, I landed on my feet as a Graphic Artist in a prestigious Design Studio. Opening THE GRAPHIC QUILL in 1991, specialising in calligraphy and design, my life as a passionate letterer was blossoming.
I was a pioneer at the time and didn't know it. With no internet and nowhere to look to see what was happening in my field. I was alone, so I made it up as I went. It's hard to imagine isn't? There was little to nothing available in individual or "bespoke" design choices for, what I termed "Celebration Stationery". So I designed my own custom ranges incorporating type and calligraphy and much more.
I was teaching way back in the mid 80's, at the College of Decoration, now merged with RMIT, at CAE for 10 years and running my own workshops and courses all over Victoria. Calligraphy was booming and I was in my element. Those classes kept me afloat financially and teaching taught me so much about my art.
In time built a business specialising in invitations incorporating Calligraphy and Design. My client list consisted of many top Australian corporate names including Crown Casino, BHP, Australian Grand Prix, Frontier Touring and International Film Makers to name but a few.
Calligraphy is no lost trade or art or craft. The uses for calligraphy and lettering is limited only by your imagination. Therefore the purpose of the work I do is vast.
From one off commissions to written words used for major films and everything in between.
Throughout my career I have continued to study the art of calligraphy. That's essential as it's a living and evolving art. Training with "Master Calligraphers" from around the world since my humble beginnings in the early 80's, I continue to do the same to this day.
To name a few of these International Masters: Shelia Waters, her son Julian, Christopher Haanes, Yves Leterme, Eliza Holliday, Charles Pearce, Thomas Ingmire, Graham McArthur and the list goes on laa la laa. I have traced the auspicious family tree of highly regarded teachers that I have had the honour to study with "write" back through the generations to Edward Johnston who is widely acknowledged for rediscovering my "LOST TRADE".
+ More