4 Week Pole Dancing Course
---
---
Description
Master the art and skills of Pole Dance in a small group setting with our four week Pole Dance Courses.
If you are looking for an alternative to the traditional workout you may find what you are looking for in pole dancing. Our courses provide you with weekly 60min sessions to introduce you to new skills and a new love affair with the pole! While you are having all that fun, you will be burning lots of calories too. Pole dancing is amazing for fitness, flexibility, strength and toning, as it combines isometric and cardiovascular exercise all in one.
This course is suitable for all ages, shapes, sizes and walks of life - from the absolute begginer to the curious gym-goer.
+ More
Class Schedule
4 x 1-hour weekly sessions on Tuesday or Thursday evenings
What you will learn
Safely master the art of Pole Dance
Build confidence and fitness
Develop skills, strength and flexibility
What you will get
Complete workout that trains strength, flexibility and fitness
Build confidence and new friendships
De-stress by having fun with Pole Dance
Develop greater balance and kinesthetic awareness
Learn a new way to exercise and burn calories
Improve posture and flexibility
---
What to bring
Short shorts and singlet recommended
Water bottle and towel
A lock to secure your belongings in the free lockers provided (no bags permitted in the studios)
What to wear
Wear whatever you're comfortable in, however short shorts, singlet tops and barefoot are recommended so that you can use your skin to grip the pole.
Appropriate for
Suitable for those who are new to Pole Dance, would like to build confidence, fitness, strength and new friends!
---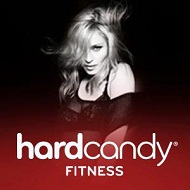 Hard Candy Fitness® is a global luxury fitness brand with a distinctive difference. The brand was created in 2010 by Madonna, the world's leading female pop-icon and well-known fitness enthusiast, and New Evolution Ventures, the world's leading expert in fitness club development and operations. The brand has grown to include club locations in destination cities around the world that are focused on innovative group fitness programming and personalised fitness training.
Uniquely designed to offer a huge assortment of classes and programs, our massive studio in Sydney CBD aims to inspire you to workout hard and play harder.
+ More