Hula Hoop Your BUTT off! One-off class for only $5!!
---
---
Description
A class perfect for absolute beginners- no experience or coordination required!
Learn how to get that hoop spinning and dance and laugh your way through the class.
A very special intro class, just to see if you like it. Minimum commitment, maximum return!
We cover the basics, moving the hoop up and down your body, isolations, transitions, finding your own groove with the hoop, and fancy tricks to show off to all your friends… all while getting a great Werqout!
Hoops will be available for purchase on the night for $40 so bring extra cash if you think you might get hooked! All class hoops provided.
+ More
Class Schedule
This is a one-off class at a very special price: only 5 bucks! Our term 3 ongoing classes start the week of July 25 in Northcote, Brunswick East and St Kilda: http://hoopsthighsbuttocks.com/shop/
What you will learn
Come see if you can get that hoop spinning! We cover the basics and how to find your own groove with the hoop, plus some fancy tricks to show off to all your friends… all while getting a great Werqout!
Get fit, tone up, get moving and have fun while doing it!
Get hula hooping tips and tricks straight from expert hula hoop performer and teacher Jade aka Jane Fondle!
What you will get
A fitness class where you're having too much fun to realise you're working out!
Dancing and playing to fun music with a great bunch of people of all levels of fitness and ability
Professional instruction by an experienced and talented teacher of all the coolest hula hoop tricks.
Warm up in this chilly weather in a beautiful heated space.
---
What to bring
Just your fantastic self and your enthusiasm!
Also a water bottle
**HOOPS PROVIDED**
What to wear
Wear comfortable clothing. The less clothes the better, to get that hoop to stick to your body. Layer up!
Appropriate for
Beginners. No experience required at all.
---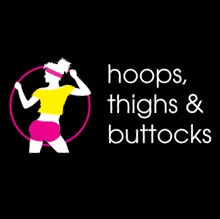 Hoops, Thighs & Buttocks are hot off the press and bringing you Melbourne's best dose of fitness, dance, hula hooping and laughter.
We offer the hottest fitness and hula hoop classes in town! With 3 convenient locations in Brunswick, North Fitzroy and St Kilda there's no excuse for not having your hips swinging and booty shaking with us.
You don't know what you're missing if you haven't tried our fun and sexy Booty Camp classes. And our "Show Us Your Tricks!" Hula Hoop classes will teach you all the coolest hoop moves while you have a great werqout. You can choose to do either one of these classes or be a winner and sign up for both to really Werq.It.Out!
+ More