Let your inner artist come out to play!!
---
---
Description
Join me for a 1 day workshop located along the Swan River. Mix and meet like minded creative souls who would like to create a unique piece of art. This workshop is designed to take you through a fun journey with your art and discover the inner artist along the way.
Beginners I absolutely love - you will be so amazed as your unlock your inner artist and express your creativity.
All levels are welcome. Tip - you must be prepared to let go, be brave, go with the flow.
Paint with passion. Paint with an unknown destination. Let loose, play a little, be spontaneous. This is where the magic happens...
A day of fun, laughs and new friendships.
I am always incredibly honoured to be part of a students journey into re-discovering their creativity.. ..such a beautiful feeling.
I would love to meet you.
Two classes available Saturday or Sunday
One full day of creating your masterpiece. How awesome is that. Do it for you. Because you are worth it.
Jayne x
PS: Classes fill fast so please book early
Yes because these classes are so popular I have added Sunday as an alternative option if you cannot make Saturday..
For further enquiries please email - info@jaynerolinson.com.au
+ More
Class Schedule
7th October - Saturday 9am to 4:30pm OR 8th October - Sunday 9am to 4:30pm
What you will learn
Tips and techniques that will give you the courage to loosen up. Be brave and let go
This course is designed to bring your creative side out to play. Yes - you will create a beautiful intuitive piece of art.
Explore collage and painting in layers. The power of symbols, compostion and colour in your work.
What you will get
Take home a large finished art work to hang so proudly on your wall. Yes.... how awesome is that!
A unique insight into your own creative process and where your inspiration comes from.
Step by step guidance from a professional artist who believes on having fun along the journey.
Make new connections with other creative souls.
Fun, fun and so much more.
All brushes, paints and and canvas are supplied. Just need to rock up..
---
What to bring
Your lunch and snacks for the day. Coffee and tea will be provided
Please bring an apron - not essential. Painting with abandon can get messy..
Bring that playful curious side of you. The one who wants to play without expectations! Inner critic left at home...
What to wear
Please wear comfy loose clothes - when the paint land's on your clothes -we can laugh
Appropriate for
No prior skills needed. Adults of all ages. Teenagers - yes. Young Children- no
---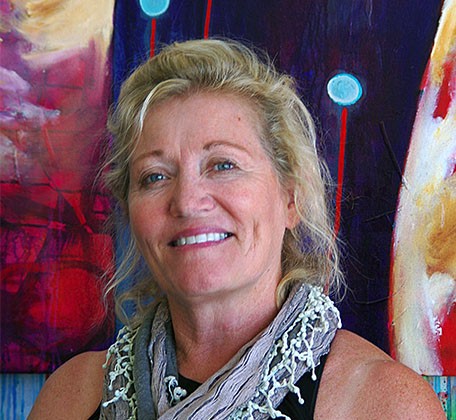 Growing up in the Australian bush as a young child left Jayne with lasting memories of places, colourful characters and nurtured a deep love and respect for nature's beauty and harshness. Jayne did not tap into her true passion for painting, until her successful non-artistic career wound down so she could dedicate her time to raising her precious family. This was a very pivotal and rewarding time in Jayne's life for many reasons, one being when her hidden passion for art began to flourish.
Today, Jayne is a professional award-winning artist, with her artwork regularly requested for participation in art exhibitions. Jayne has created and sold original art work in all forms of media. Due to her creativity and use of her open minded approach to art 'painting from the heart', she has been able to combine different media to continually create stunning, unique pieces of art. In addition to creating art, it is very important to Jayne that she donates to various charities every year. It gives her great fulfilment in knowing that her donations are being appreciated and contributing to helping others.
Jayne's great passion for combining nature, contemporary and abstract approach to art is evident. Jayne paints from her heart, with passion and determination that keeps her reaching for new heights. Public popularity and demand for Jayne's work continues to rise.
+ More