Italian Lessons for Adults (Coburg)
---
---
Description
This course is designed for those intending to travel to Italy, but is also suitable for those wanting an introduction to the Italian language. The course consists of 1.5 hours classes, once per week. These fun classes incorporate essential communicative language structures, culture cuisine and other general information that will enhance you trip to Italy.
Topics covered:
Introducing oneself
Asking about tours, departures
Shopping, asking prices, sizes etc
Numbers
Telling time
Buying tickets
Ordering drinks, snacks
Ordering in a restaurant
Directions
Intimate Italian
Discussing the weather
Titles and addressing people
Getting around – Transport inquiries
Reading a timetable
Accommodation inquiry
+ More
Class Schedule
Term 3 Duration: 1.5 Hours x 7 weeks
What you will learn
Introducing oneself
Asking about tours, departures
Shopping, asking prices, sizes etc
What you will get
Expert tuition from an experienced teacher
---
What to bring
Your interest to learn!
Notebook
Pen or Writing Material
Water Bottle
---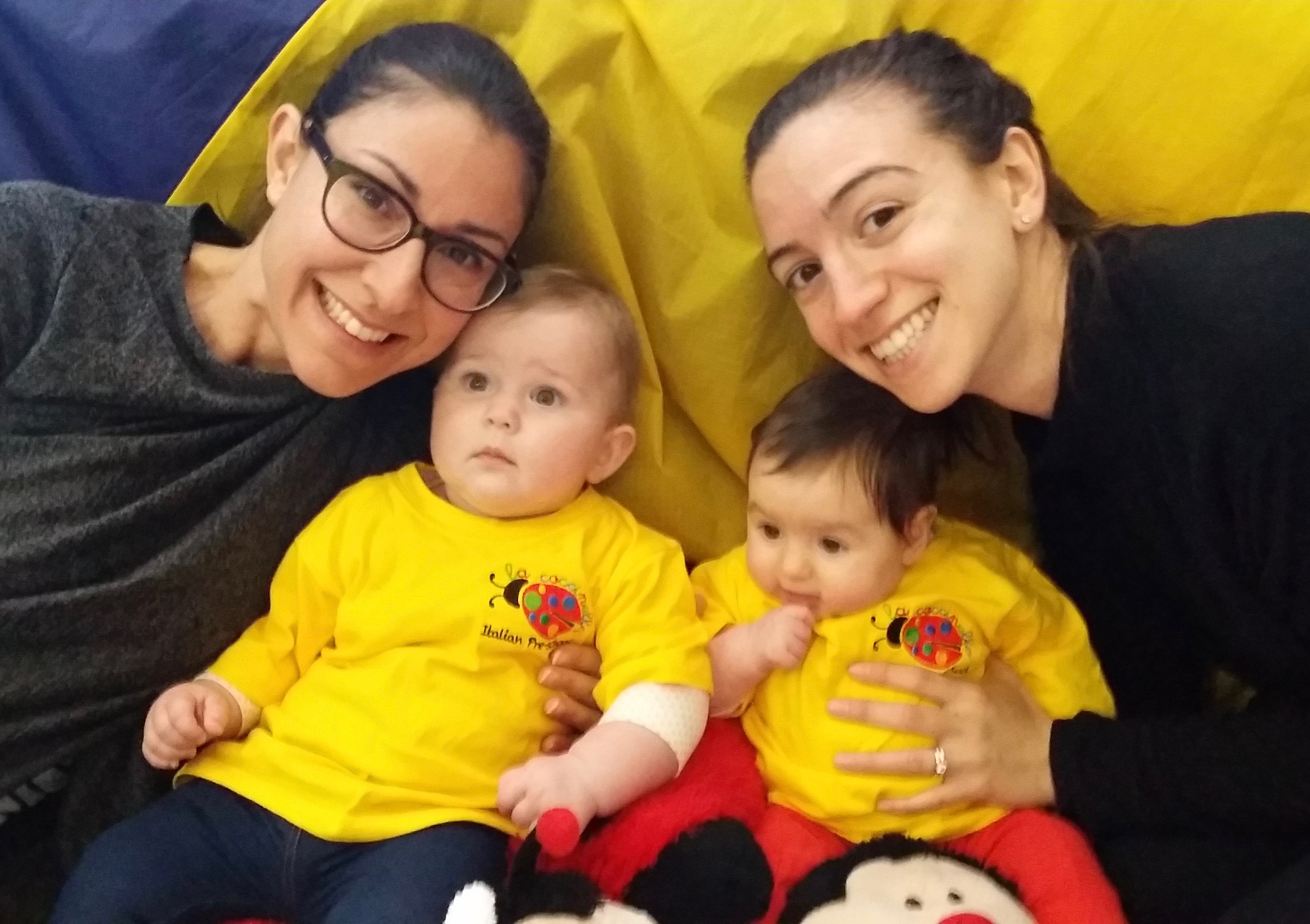 Learning Italian at La Coccinella is fun! Our program is a dynamic immersion program that teaches Italian in a hands-on, thematic methodological approach. Children are engaged in activities that develop fundamental early childhood skills such as socialisation, imagination, listening, sharing and creativity.
Music, dance, storytelling, dramatic play as well as creativity through arts and crafts are conducted in an interactive, warm, playful environment…..all in ITALIAN! We have fun while learning another language! Our Coccinella Bimbi are like our little family. Our small classes sizes provide and intimate and nurturing atmosphere.
Our activities are theme related and centred around the vocabulary and language taught, with a major emphasis on learning through the arts. Our children's art work is truly inspiring.
+ More
---
Cancelation & Refund Policy
Condition of Refunds: No refunds will be issued after the commencement of term. Students who withdraw prior to the commencement of the classes are entitled to a Credit Note for the full amount. Once a Credit Note is issued, it cannot then be exchanged for a refund. No refunds will be issued for missed classes. Credit Notes can be arranged for students who, through extreme circumstances only, are forced to withdraw from classes in the first two (2) weeks of term. No Credit Notes will be issued after this period. No credits are issued for missed classes. Credit Notes are not redeemable for cash. Holiday Policy:If you are intending on taking holidays during any school term, full fees are applicable. Enrolments are for a full term we are unable to accept part term enrolments due to small class sizes. Make-up sessions:If your child misses a class due to illness, please let us know via text as soon as possible. Make-up sessions may be available during the term in which the class was missed, this is dependent on class size. Sometimes class numbers are at maximum. Make-up sessions are NOT transferable to other terms or following year.
+ More
Terms & Conditions
Terms and Conditions
Condition of Refunds: No refunds will be issued after the commencement of term. Students who withdraw prior to the commencement of the classes are entitled to refund of the administration fee or a Credit Note for the full amount. Once a Credit Note is issued, it cannot then be exchanged for a refund. No refunds will be issued for missed classes. Credit Notes can be arranged for students who, through extreme circumstances only, are forced to withdraw from classes in the first two (2) weeks of term. No Credit Notes will be issued after this period. No credits are issued for missed classes. Credit Notes are not redeemable for cash. Holiday Policy:If you are intending on taking holidays during any school term, full fees are applicable. Enrolments are for a full term we are unable to accept part term enrolments due to small class sizes. Make-up sessions:If your child misses a class due to illness, please let us know via text as soon as possible. Make-up sessions may be available during the term in which the class was missed, this is dependent on class size. Sometimes class numbers are at maximum. Make-up sessions are NOT transferable to other terms or following year. Sessions are not conducted on public holidays ​ and are not at a charge to students. ​OFFERS: 10% Sibling Discount: is available to all subsequent children enroled after the first child. This offer in only available when one or more children are enroled in one given term. 10% Sibling Discount is not available with any other offer. 5% Early Bird Special: is available to all students who enrol before the stated Early Bird Date. Early Ladybird Special is not available with any other offer. 10% Multi Term Discount: enrol in the two consecutive enrolment dates listed and receive 10% off total fee price when payment is made before the specified early ladybird time frame. 10% Multi Term Discount is not available with any other offer. All offers are not available in conjunction with any other offer, they are non-refundable or transferrable for cash. Enrolment Confirmation: please obtain confirmation either by phone or email for La Coccinella prior to commencement of each term and making payments to ensure your child has been successfully enroled
+ More
---