Piano lessons (Brunswick) with Sam Colcheedas (30-Minutes)
---
---
Description
Private Piano lessons are available with Sam Colcheedas at his piano studio in at 893 Park St, Brunswick West All ages and abilities welcome.
For more information visit:
http://www.melbournepiano.com.au/piano-lessons-brunswick.html
To view Sam's live schedule visit:
https://melbourne.acuityscheduling.com/schedule.php?appointmentType=category:Sam+Colcheedas
Sam Colcheedas discovered the world of piano at age 8 when he began having piano lessons. Initially learning by ear, having nearly perfect pitch accelerated him into more challenging repertoire and AMEB exams. The discovery of music and passion for classical music has spurred on his development and his enthusiasm has only increased over time.
Fast forward 12 years and Sam is an accomplished pianist and piano student, having developed a large repertoire, including complex works by well known composers such as Rachmaninov and Liszt, to name a few. And much like Rachmaninov - who had to be physically pushed on stage to play – competing in eisteddfod and recital performances further developed his stage presence and performance skills. Sam's first professional recital was in 2009 with cellist Joanna Tidy, at the Warburton Arts Centre. The two-hour performance provided both pianist and cellist the opportunity to play for a full house as both solo and duet material.
He graduated from Diamond Valley College and completing his eighth grade AMEB theory and Piano in 2013. As a registered piano teacher and avid student, his performance schedule will ever be busy as his studies progress under renowned pianist Caroline Almonte at the MCM.
He has performed in masterclasses with pianists such as Professor Ian Holtham, Igor Machlak, Donna Coleman, to name a few. He works extensively with varoius ensembles and in piano duos and has recorded and performed with them alongside being foremost a concert soloist.
+ More
Class Schedule
Set date and time when booking Duration: 30 minutes private lesson
What you will learn
Learning repertoire, technique, aural training and music theory
Piano lessons are tailored to help you achieve your specific musical goals
Classical, Contemporary, Improvisation (you choose your preferred genres)
What you will get
A positive learning experience with an outstanding music educator
A passionate, tertiary qualified piano teacher
A fun, creative & holistic approach to learning piano
---
What to bring
A notebook for lesson notes
Appropriate for
From complete beginners to professionals
---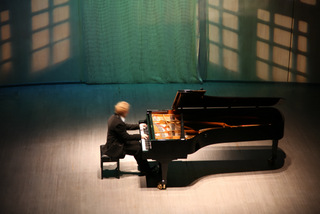 Melbourne Piano School offers a fun & creative approach to learning piano and singing at our studios across Melbourne. Our team of passionate and experienced teachers are dedicated to helping you achieve your musical aspirations, whether your are a professional or beginning musician. Lessons include learning repertoire, technique, aural training and music theory, and are tailored to students' musical goals and interests.
Whether you are wanting to studying for fun and personal enjoyment, or prepare for AMEB exams and advance your music career we are here to support you to achieve your goals and deepen your relationship with music.
+ More