Glassblowing Lesson - No Experience Necessary
---
---
Description
Join Setsuko in a one-on-one lesson and make your own unique glass blown art piece. No experience is necessary as Setsuko will provide very specific help and instructions during the lesson. You can attend the lesson by yourself, and make two glass pieces OR have a friend join you and both be given a one-on-one experience of making one glass piece each.
The lessons are available in April, May, June, October, November and December. There are only two lesson time slots available per day - 9am-10am and 11am-12pm.
Lessons have a duration of one hour, but will be filled with fast paced work and instruction, so it is not reccomended for people who may have certain disabilities or injuries.The lesson will be a one on one experience with Setsuko Ogishi. The lesson can be for one person, or for two. In the case of one person attending the class, two items of glass with be made over the duration of the hour. In the case that two people will be attending the class, each person will be allocated 30 minutes to make one item each.
Please notify Ogishi Craft Centre on whether the lesson will be taken by one or two people when your booking is organised.
Make sure to adhere to the dresscode requirements.
Get an experience of Glassblowing
Setsuko offers one time lessons to create your own unique glass item. Advanced bookings are essential. Please contact Ogishi Craft Centre for more information and available dates.
Glassblowing is a combination of judgement, ability, artistic creativity, mental control, and physical movement.
As the items take 24 hours to cool, collection of your creation needs to be the following day. Or shipping can be arranged. 100%fee will be processed when it is booked.
+ More
Class Schedule
Please enquire for available months, as the Workshop is only active April, May, June, October, November and December. Day: Friday, Saturday, Sunday or Monday. One hour lesson 9 AM start or 11AM start for 1 or 2 people lesson
What you will learn
Fundamentals about Glassblowing
Learn various tips & techniques
A complete learning experience
What you will get
Expert tuition from an expert coach
Glass material
Use of workshop tools & facilities for the class
Fun and exciting experience with 2 beautiful unique glass pieces created at the lesson
---
What to bring
Your enthusiasm!
UV Protection Sunglasses
What to wear
Safety Glasses – a pair of sunglasses is necessary for this course | Long sleeve or short sleeve cotton shirts, no frill on end of sleeves | Cotton long trousers | Fully enclosed leather upper shoes (No high heel or slipper type shoes)
Appropriate for
Beginners are welcome (14 years or older)
---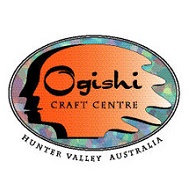 Setsuko Ogishi Art Glass Studio is one of only a few glassblowing studios in Australia, and is the only one in the Hunter Valley which is open to the public. Setsuko's first studio was established in 1987 in Wollombi, New South Wales, and moved to Rothbury in 1999.
About Setsuko Ogishi
Setsuko's art career started at an early age as a painter. Born in Japan, she studied Oil Painting and Sculpture at senior high school, then extended her interest through Kanazawa College of Arts in Japan, graduating with a degree in Bachelor of Fine Arts.
Setsuko's glass career started after her arrival in Australia, where she trained in the glass workshop of the renowned Jam Factory Craft Centre in Adelaide from 1982 to 1985, assisted by a grant from the Australia-Japan Foundation. In 1987 she established her own glass studio in the Hunter Valley region of New South Wales. Setsuko's work reflects her Japanese background, strongly influenced by the Australian lifestyle.
+ More