Description
Welcome to the beginners guide to bread making! This is in no way professionally set up, but my aim is to provide an beginner's insider guide for other beginners. We will be going through some theory, then getting hands on with preparing, kneading, and shaping your own bread dough.
There will be some time spare for waiting for our bread dough to proof, so I will bring along a premade dough ready for baking at the beginning of the lesson so that we will have some food to snack on while we wait. Please feel free to bring along some toppings if it wouldn't be a hassle. (e.g. ham, cheese, basil, tomato, more cheese, more ham)
At the end of the class, you'll be taking your very own freshly baked bread to take home, plus a scraper as a token of momentum.
This class is aim for adult learners, and a passion for bread and home baking is definitely required.
PLEASE NOTE that if you are purchasing my starter, please bring a glass jar of at least 250ml volume capacity.
+ More
What you will learn
knowledge on bread making techniques such as kneading and shaping
basic knowledge on bread making process
What you will get
Confidence for making your very own home and handmade sourdough bread
A free recipe for making sourdough bread
A dough scraper, baked bread, and optional starter
---
What to bring
Your enthusiasm and eager to learn attitude, your apron, some bread topping if you like, and obviously please bring yourself to the class. Feel free to also bring along pen and paper if you like to write down notes and recipes.
What to wear
Casual clothing, closed shoes, a top that you can roll up the sleeves and not mind that it will get powdered with flour.
Appropriate for
Absolute Beginners, beginners that have tried but need guidance
---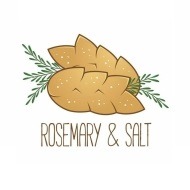 Rosemary and Salt is a sole owned small bakery business that works through online preordering/delivery and now partnering with Chattie's Komachi to sell soup and bread at Chatswood mall market every Thursday. The aim is to provide quality and fresh sourdough bread to customers using simple and healthy ingredients combined with baker's passion, knowledge, and hard work. Rosemary and Salt is also available for beginners bread making lessons with maximum of 4 adults in hope to pass on the knowledge and goodness of homemade handmade artisan sourdough.
+ More
---
Cancelation & Refund Policy
Once the booking and payment have been confirmed, you are able to refund or change order 48 hours before the class.
+ More
---