Beginner Cuban Salsa (Brunswick)
---
---
Description
No Partner Required, Ideal for beginner students of any level (from students with no experience to those who have an understanding of the basic steps and turns)
Our open workshop format allows students to attend any class at anytime.We run two back to back salsa classes on Wednesday nights.
Our Salsa classes cover:
Cuban Salsa
Some LA Salsa aspects
Cuban Salsa couple dancing
Ladies and men's turns
How to lead / follow
Hand positioning & signalling
Body isolation
Body movement
Foundation
Musicality
Timing
Dance patterns and combinations
Rueda De Casino (synchronised dancing in a circle)
+ More
Class Schedule
Duration: 60 Minutes
What you will learn
Dance with anyone whether they dance the Cuban style or LA style of Salsa.
Learn to dance salsa quickly, with easy to learn broken down steps.
Learn to express yourself through the music.
What you will get
Get a Discount: Try our Discount Dance Card - 5 salsa classes for only $60, valid of 3 months.
Casual attendance: $15 for one class or $20 for BOTH classes on the same night (Beginner + Improver/Intermediate Class).
---
What to bring
Yourself and your passion to dance.
What to wear
Comfortable clothing, smooth leather sole shoes as you will be learning turns and spins. Avoid using track shoes or tennis shoes. For ladies, flat or low heel shoes, avoid open toe shoes. NO high heels especially when you are just starting to learn.
Appropriate for
Ideal for beginner students of any level (from students with little or no experience to those who have an understanding of the basic steps and turns)
---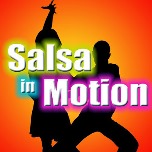 Salsa In Motion is about showing you and teaching you how to dance with emotion…it's about teaching you how to dance with anyone whether they dance the Cuban style or LA style of salsa.
It is about expressing yourself through your interpretation of what you have learnt and to make salsa your very own style. It doesn't matter whether you are dancing Cuban, LA or even New York styles of salsa or whether you are dancing on 1, 2 or 3… salsa is about letting go and embracing the space around you…dancing with this attitude, your body will spontaneously feel the rhythm and the music.
+ More