Description
LUTTERLOH Draft & Sew
Last year's Lutterloh pattern drafting workshop was so popular that we are now running this Lutterloh Draft & Sew workshop every second month. Use the Lutterloh drafting system with Danielle & Jo to draft and sew your own patterns for any body shape
+ More
Class Schedule
Duration: 6 Hours
What you will learn
Lutterloh pattern drafting workshop
Use the Lutterloh drafting system
Draft and sew your own patterns for any body shape
What you will get
Expert tuition from an experienced teacher!
---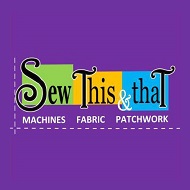 At Sew This & That, we are a team who pride ourselves on being a friendly store with a welcoming environment. As experienced sewing enthusiasts, we place a high level of importance on making sure that beginners feel as comfortable as those who sew all of the time.
We like to show off our great range of class projects all over our walls and encourage everyone to feel free to come in and browse around, and because we are a Patchwork and a Sewing Machine Store, we can provide expert advice on both.
+ More