Non-Profit
Botanical Watercolour Workshop for Beginners
---
Next Available: Sat, 01 Dec 11:00AM
Book Now (http://weteachme.com/l/SwBrRixr)
---
Description
Start your weekend off right with this relaxing and fun botanical watercolour class.
Your teacher, Funda, will guide you through the basics of watercolour painting and how to capture the beauty of all things floral!
The first hour of the workshop will be focused on learning different watercolour painting techniques and how to paint a variety of leaves and flowers. The second hour will be where you get to show your creative side! In this part of the workshop, you will be guided to create your own botanical artwork, using the skills learned in the first part of the workshop.
Special watercolor paper, paints, and brushes are all provided!
About the teacher:
Funda is an incredibly talented and creative entrepreneur at SisterWorks. Before moving to Australia, Funda worked in architectural restoration in Istanbul for 15 years. She met one of our entrepreneurs in a conversation class and was introduced to SisterWorks. Here she learnt how to sew and started making dolls with us. Being at SisterWorks has allowed Funda to explore her creative side, eventually finding her way to watercolour painting.
Funda has always wanted to paint and her artistic side goes back to when she was a child. She is completely self taught. Funda says "I feel amazing when I paint, it is so relaxing. I find myself when I'm painting." Funda would love for everyone to experience the same feeling.
+ More
What you will learn
Learn colour mixing and basic watercolour painting techniques
Learn to paint a variety of flowers and leaves
Be supported to create your own unique watercolour piece with your choice of the flowers and leaves
What you will get
You will walk away with a beautiful watercolour bouquet you have made
The opportunity to support a social enterprise empowering migrant and refugee women
---
What to bring
Special watercolor paper, paints, and brushes are all provided!
What to wear
Whatever feels comfortable!
Appropriate for
Adults 15+
---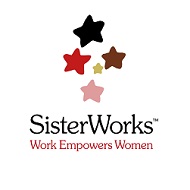 SisterWorks is a social enterprise. A business. But we are also so much more than that. We are a Family.
SisterWorks helps women who are migrants, asylum seekers and refugees start and run their own micro businesses.
We don't just deal in money but also in knowledge and relations. Working is not just about getting paid. It's about having something to fight for in life, being a part of a community and feeling worthy. They have been marginalised due to a lack of identity, language barriers, lack of western culture knowledge, poor employment skills and being the carers of their families. They face long-term unemployment which exacerbates social issues. With on-going support, this vulnerability can be lifted and not become a lifetime issue.We believe that Work Empowers Women and our aim is to support as many women as possible to move into work.
+ More