Like weely giveaways? Like exclusive classes? Like special offers?
Then your'll love our Newsletter!
Boost your Charisma, Confidence and Style Workshop
---
---
Description
This full day workshop will help you gain the skills and confidence you need in order to achieve your goals.
Who is this for? If you want to:
Improve the way you present yourself in situations such as interviews, performance reviews meetings or networking events
Be sure what messages your image is saying about you
Make sure your body language mirrors positive attributes such as confidence, strength, friendliness
Increase your ability to persuade others
What will you will learn?
What Is Charisma?
The importance of body language, connecting and interacting with others
Tools and advice to become (more) charismatic
Group session with exercises
Personal one on one coaching session with each participant to enhance charisma
Hand outs with useful information
Learn what colours suit you
What colours you should wear to boost your mood and personality
How best to dress your body shape
One on one 10 steps to build your personal brand session
This workshop is very personalised in order for you to get the attention you need. There are only 10 participants in total which a split up into groups of 5 on the day.
About the Presenters
Stacey Taras, Personal Branding Specialist and Image Consultant
Stacey has presented workshops internationally for global companies, styled industry leaders andeveryday people. She has worked with models in photo shoots and fashion events. She loveworking one on one conducting styling sessions in which she specializes in helping people discovertheir inner qualities, teaching them on how to best reflect those attributes to the world aroundthem. Her philosophy is simple but profound. She believes through the gift of confidence, herclients can capitalize on every opportunity and achieve their professional and personal goals.
Sacha Hulsebosch, Charisma Coach
Sacha is a Charisma Coach and originally from The Netherlands. Sacha coaches men and women toenhance their charisma in personality, communication, presentation, interaction and awareness ofpersonal style, qualities and power. She has many years of experience in presenting workshops,training and personal coaching for Dutch Government, Commercial Companies, Universities andwith individuals. She believes that everyone has the quality to add something special in and toevery situation.
+ More
What you will learn
Tools and advice to become (more) charismatic
What you wear and how it impacts your life
The style secret called Illusion Dressing and how to apply it
What you will get
Understand body language and communication
How to create a good first impression by using body language
How to interpret the signals of others
What colour suits you and how to wear it
---
What to wear
Whatever you feel like x
---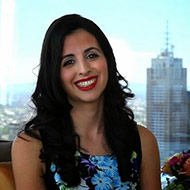 Travelling to my corporate job one morning, I had a life-changing realisation: I am too well dressed for my office, and I'm too passionate about fashion to ignore my attraction towards it. Soon after, I was working extremely hard to focus my energy and career towards styling, eventually graduating from the Australian Style Institute. Later, I earned top marks while completing a Diploma from the Australian College of Professional Styling.
The one understanding that grounds my styling is that almost everyone's first impression of you will come from how you look. I never dictate to a client what they should wear. Rather, I like to grab a coffee with them and try understand their background, who they are, and most importantly who they would like to be. Your style is an expression of your personality. Allow me to find your look, and change how others look at you.
+ More