Like weely giveaways? Like exclusive classes? Like special offers?
Then your'll love our Newsletter!
Style Advice and Oracle Colour Reading
---
---
Description
How it works:
Meet with Stacey over a cup of tea where she will ask you a bunch of easy questions about your lifestyle, fashion and answer any questions you may have about your style.
She will also do a colour card reading that tells you the key colours you should be wearing in your life right now to attract what you need.
Once voucher is purchased Stacey will call you to book in a time and date.
Bonus: You are also welcome to bring a friend for free!
A little about Stacey Taras:
Down-to-Earth, empathetic and genuine
The fashion industry has its fair share of too-cool-for-school people. This isn't her style. She is all about getting to know you over a coffee, connecting with you, and guiding you to revitalise your spirit, not just wardrobe.
Professionally-qualified and super experienced
She has completed two diplomas in professional fashion styling – along with make-up short courses – so she is not just some annoying fashionista lady! She has worked in fashion for 10 years, and even worked first-hand with fashion icon Liz Davenport.
Psychology and marketing background
Her degrees in psychology and marketing play a huge part in her consultations. You'll discover how your image affects the way people perceive you, and learn how to use this knowledge to connect with people unlike ever before.
+ More
What you will learn
How to dress for your body shape
What colours you need to wear that best reflect your personality
How to create a wardrobe that suits your lifestyle
What you will get
After the session you will receive a personal style advice keepsake with priceless information on how to dress for your body shape, what colours suit you, illusion dressing & other pearls of style wisdom.
---
Appropriate for
Females aged 20-50
---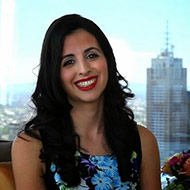 Travelling to my corporate job one morning, I had a life-changing realisation: I am too well dressed for my office, and I'm too passionate about fashion to ignore my attraction towards it. Soon after, I was working extremely hard to focus my energy and career towards styling, eventually graduating from the Australian Style Institute. Later, I earned top marks while completing a Diploma from the Australian College of Professional Styling.
The one understanding that grounds my styling is that almost everyone's first impression of you will come from how you look. I never dictate to a client what they should wear. Rather, I like to grab a coffee with them and try understand their background, who they are, and most importantly who they would like to be. Your style is an expression of your personality. Allow me to find your look, and change how others look at you.
+ More