Frozen pleasures.
---
Next Available: Fri, 14 Dec 9:00AM
Book Now (http://weteachme.com/l/Ky61GT8r)
---
Description
In the day you will learn to make
Syrup for sorbet. Make a real sorbet and put it through the ice creanm machine. Make a vanilla anglaise for the ice cream. Make and bake some cookies for the cookies and cream ice cream.Cook a traditional Cicilian Gelato and churn it .
It will be a very busy day,as all our classes ,but the reward when you take your products and knowledge home is really worth it.
The class is ideal if you are planning to open a coffee shop , wanting to learn a new skill to impress your friends and family or just upgrade your skills to to European stansdard.
On the day, the lecturer will take you through most of the diferent ice cream machines available that you can use at home and you will alsso get a recipe for ice cream parfait that you can do at home with no ice cream machine . (we won't do this during the class, but the lecturer will go through the recipe with you).
DON'T FORGET YOUR ESKY WITH ICE BRICK.
+ More
What you will learn
Learn how to make fruit's Sorbet
Learn how to make Ice cream and cookies to add to it.
Learn how to make the true Cicilian Gelato and parfait ice cream.
What you will get
You will take with you all your production of Ice cream, sorbet and Gelato.
Your apron and recipes book. But mainly a load of techniques that you would overwise only learn in Europe.
You also get a certificate of participation.
Parking Info
Free parking at the front of the school.
---
What to bring
Good flat shoes, you will stand up for a long period, stools are available if you can't stand for to long. Your lunch, lunch bar are also available nearby.
You will need to bring a cool bag or esky with ice brick, containers will be provided.
What to wear
Confortable shoes and cloth. We do have good refridgerated air condition/heated in the room, the temperature is always confortable.
Appropriate for
Prerequisites: No prerequisite for this course beginers welcome. – open to public and trade.
---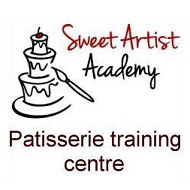 Firstly I would like to tell you, "Don't be put off by all the fancy cakes you will see on this website. On the contrary, be excited!" You won't make all of them in one go. (Just one bite at a time!)
All our courses are designed on the basis that students don't know anything about cakes (hence wanting to learn) but are excited about learning – and we will be as patient as you. It is a relatively new style for Australia so don't worry, in the training you won't be the only one not knowing where to start.
For all our training courses we only use the best ingredients available.
The courses are designed to be delivered in an intensive one-day block. You do not need to book for a series, all start at "Level 1 – Beginner". Then it is up to you to continue on later to an advanced level if you choose.
The training you will receive is of a very high standard – equal to European standards (without the cost of flying there!) and you will have the opportunity to learn all about Pastry using the latest equipment and techniques direct from Europe. All the courses are designed for trade and public. Most courses do not require any prerequisite – the only requirement is that you are a food fanatic. Also, all the tools are provided, so you won't need to buy any tools that you may not use again.
To achieve these high standards whilst catering for individual learning, class sizes will range from 4 students (minimum number to run the course) up to a maximum of 12 students, depending of the course.
Courses can be developed and tailored to suit your needs for both individuals and small groups. Instruction, training and/or demonstrations can be done at our premises or we can come to you if you have a sufficient number of students and adequate facilities.
+ More
---
Cancellation & Refund Policy
48 hours notice cancelation required to get a full refund . . (Only on a presentation of a medical certificate, will you have the opportunity to reschedule the course .)
We reserve the right to cancel a class if the minimum attendance number is not reached. (Your fee will be refunded or rescheduled, you will get the choice.
+ More
Terms & Conditions
Important Health and Safety Information
For safety reasons, you will need to be 16 years or older to attend our courses.
Our courses are NOT SUITABLE if you are allergic to NUTS or other food ingredients.
For health and safety reasons, enclosed shoes must be worn during training. Long hair must be tied back, and avoid wearing loose bracelets or bangles, keep your rings at home.
Casual and light clothes are suitable. As you will stand up for a long period of time,snickers or shoes with thick sole are recommended.
You will get a recipe folder and an apron for you to take home. Video recording is not permitted from either phones or other video devices but you are welcome to take as many photos as you like.
Facilities
For a full day course, you will have a 30 minutes lunch break .
A dining room is provided for your breaks. Hot and cold drinks will be available free of charge. You will need to bring your own lunch or organise it from a nearby lunch bar.
We have ample free parking space in front of our premises. We are located just a 10 min walk from Joondalup train station, in the business park opposite the shopping centre. We encourage you to use public transport, we have a free pick up and drop off at the Joondalup train station, organise it in advance.
We will not take your photo without asking for your permission first .
Apprentices and trades people working in the food preparation/hospitality industry may be able to claim attendance to our courses as a tax deduction. In some cases ABN holders could qualify for a $200.00 Small Business Smart Business Training Voucher – contact your local Small Business Centre or www.sbceastmetro.com.au/services/training-vouchers (08) 9274 6428
+ More
---