Description
Our Coco High Teas are a fun and delicious way to celebrate a children's party!
Set on Harbour Trust land at Middle Head, celebrate a birthday or just enjoy the day with friends. You are welcome to bring your own birthday cake and decorations to mark any special occasions. As an outside venue, children have a vast grassed area to play and have tables and chairs as well as picnic blankets for your use.
Children's High Tea menu A $28pp (Max Age 5 years):
Apple juice, mini sausage rolls, handmade large freckles, cupcake & a dotty cookie.
Children's High Tea menu B $40pp (OVER age 5 years):
Scones, florentines, cookies, mini vanilla cakes, mini chocolate cakes, mini sausage rolls, juice, milkshake or hot chocolate
Please phone (02) 9960 5848 or 0414701477 to make a booking.
Our High Tea service runs throughout the summer months from October through to May for 1.5 hours (outside these months are simply at your own risk due to weather and minimum of 8). We offer High Teas at the weekends only, although larger groups (over 20) can be catered for on weekdays. Please contact us at info@cocochocolate.com.au if you require further information.
Please note this venue is outdoor only
+ More
---
What to wear
Casual and suitable for outdoor grassed area
---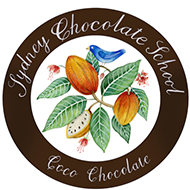 The Sydney Chocolate School trains budding chocolatiers in the traditional French hand tempering on marble. Level One concentrates on students understanding the principles of tempering and practical demonstration of this art.
+ More
---
Terms & Conditions
ACCIDENT WAIVER AND RELEASE OF LIABILITY CLAUSE
Name of Event: Sydney Chocolate School
Property addresses: The Sydney Chocolate School & Coco Chocolate Studio - Building 21, 1110 Middle Head Rd, Mosman
I HEREBY ASSUME ALL OF THE RISKS OF PARTICIPATING AND/OR VOLUNTEERING IN THIS ACTIVITY OR EVENT, including by way of example and not limitation, any risks that may arise from negligence or carelessness on the part of the persons or entities being released, from dangerous or defective equipment or property owned, maintained, or controlled by them, or because of their possible liability without fault. I certify that there are no health-related reasons or problems which preclude my participation in this event. I acknowledge that this Accident Waiver and Release of Liability Form will be used by Rebecca Kerswell and staff employed by The Sydney Chocolate School and Coco Chocolate for the event in which I may participate, and that it will govern my actions and responsibilities at said activity or event. In consideration of my application and permitting me to participate in this event, I hereby take action for myself, my executors, administrators, heirs, next of kin, successors, and assigns as follows:(A) I WAIVE, RELEASE, AND DISCHARGE from any and all liability, including but not limited to, liability arising from the negligence or fault of the entities or persons released, for my death, disability, personal injury, property damage, property theft, or actions of any kind which may hereafter occur to me on sites including my travelling to and from events/ tasks involved in the event, THE FOLLOWING ENTITIES OR PERSONS: Rebecca Kerswell and any staff employed by The Sydney Chocolate School and Coco Chocolate(B) I INDEMNIFY, HOLD HARMLESS, AND PROMISE NOT TO SUE the entities or persons mentioned in this paragraph from any and all liabilities or claims made as a result of participation in this event, whether caused by the negligence of release or otherwise. I hereby consent to receive medical treatment which may be deemed advisable in the event of injury, accident, and/or illness during this activity or event. The accident waiver and release of liability shall be construed broadly to provide a release and waiver to the maximum extent permissible under applicable law.
By booking this class, you automatically agree to the full Terms and Conditions contained within this ACCIDENT WAIVER AND RELEASE OF LIABILITY CLAUSE and also agree to allow images taken at your party to be published by Coco Chocolate/The Sydney Chocolate School.
+ More
---