Description
Learn to feel the incredible depth of sensations and rhythms in the famous and elusive "tango embrace" . Enjoying simplicity and pleasure, creating the "Tango de Salon" social tango dance.
Designed to immediately get you feeling the pleasure of moving as a tango dancer. Essential fundamental techniques and concepts are taught. These are the foundations that tango dancers need from the very start, and that will take you all the way through to advanced levels.
Learning to dance Tango opens us to a potential new world of the senses. The secret of the "Tango Embrace" allows us to experience and perceive a realm of personal freedom and a poetic self-expression. Something not often encountered anywhere else in todays society.
Our approach to classes is with a light touch and a sense of humour.
Tango does require dedication to acheive the desired results, and learning to dance Tango is also most certainly a challenge.
The word "Basic" does not necessarily mean "simple" or "easy"! The fundamental techniques taught in this class can sometimes seem difficult and complex. The techniques taught in the Basic Tango class are the foundation stones that will carry the dance all the way through to advanced levels and beyond. As with any learning process one comes across stumbling blocks. With practice, it all gradually becomes sweet, easy and above all enjoyable. People learn differently, and so move through the levels differently and at different rates.
+ More
Class Schedule
Choose from Casual class or 5-Class Pass with 1-Free class (Consumable within 7 weeks from date of first class) Class runs every Tuesday from 7pm-9pm
What you will learn
Essential fundamental techniques and concepts are taught.
Learn Tango technique correctly and understand the underlying structures and conventions of the traditional Buenos Aires dance form, and become acquainted with Milonga ettiquette and culture.
Foundations that Tango dancers need from the very start, and that will take you all the way through to advanced levels.
What you will get
Understanding of Tango techniques
Feel confident in performing Tango basics
Fellowship
Expert tuition from two very experienced teachers and two associates
---
What to wear
Dancewear and suitable shoes (email tangogippsland@gmail.com for more information or phone 0419 098 083
Appropriate for
For people with little or no tango dance experience. No partner required. Also suitable for people with some experience of tango, but who want to learn the technique for "giro" or circle figures.
---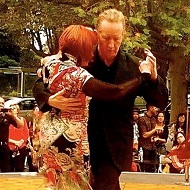 Tango Gippsland has renowned performers & professional teachers David Backler and Dianne Heywood-Smith assisted by young expert dancers Alicia Hermens and Alex Van Vliet.
David & Dianne specialize in teaching and dancing "Tango Argentino".
Classes are held in "Salon" "Milonguero" and "Tango Nuevo" stylisations, with all due credit and respect given to the history and culture of the milongueros of Buenos Aires .
Tango Gippsland is the organiser for dancers to participate learning Tango with David, Dianne, Alicia and Alex.
1. Classes and Workshops: for learning the craft and technique of Tango
2. Practicas: the informal social dance practice where the real learning begins. Before venturing into the "Milonga" dancers need to hone their skills, and learn the culture, codes and etiquette of tango. This is the function of the practica.
3. Milongas: is a term for a place or an event where tango is danced. People who frequently go to milongas are sometimes called milongueros. The term "milonga" can also refer to a musical genre or a style of dance related to tango. The music played is mainly tango, vals and milonga (as the musical genre).
David and Dianne have also been working as professional performers and entertainers, performing with their dance and cabaret act. They have performed in theatres, clubs and festivals around Australia, and overseas including Singapore, Barcelona, Shanghai, Buenos Aires
In 2009 they toured their show to Buenos Aires, including performing at the famous Sunderland, "La Milonga del Mundo"2009 Performed Tango Cabaret for NZ Festival of the Arts in the "Dans Palais" spiegeltentDuriing 2010 they performed their cabaret act "The Dry Martinis and the Cigarettes of Doom" in the Adelaide and Melbourne Fringe Festivals.February 2011 they performed with live music played by the two Maestros Massimo Scattolin andJo BeaumontIn May 2011 they performed and and taught tango at the Noumea Festivalin New CaledoniaIn October 2011 they travelled to New Zealand to celebrate the 20th Anniversary of Tango Gippsland founding the first Tango Argentino events to be held in New Zealand .In December 2011 they created and convened a new Melbourne Community event "Tango Escape" in Daylesford, Victoria 2012 March: Conducted a community Tango Escape in Hobart 2012 July toured performances and workshops to Perth WA2013 February performed Martini Tango Milonga in Spiegeltent for Perth Festival 2014 Woodend Winter Festival, Alice Springs Desert Festival, and at Playhouse in Nelson (New Zealand) 2014 Toured with Argentinian composer and maestro Maximo Pujol and Trio, Melba Hall Victoria and Festival Hall Adelaide.
+ More