Description
Language Lab welcomes learners of any age, background and motivation, learning any language. Through alternative learning techniques we jointly create knowledge that gets us to our language learning goals.
You will not find a teacher transferring knowledge, right or wrong answers, or passive attendance here. The class provides engaging and experimental activities that transform the world of learning.
Oct. 2 - 7pm - 9pm - Gobbeldygook - Getting away from the stigma around learning languages
Oct. 9 - 7pm - 9pm - Actions Help Words Speak Louder - The doing part of langugage learning
Oct.16 - 7pm - 9pm - Culture is the key - The inspiration behind language learning
Oct. 23 - 7pm - 9pm - Hacky Practice - Avoid the tedious with language learning hacks
+ More
Class Schedule
Oct. 2: 7pm-9pm Gobbeldygook Oct. 9: 7pm-9pm Actions Help Words Speak Louder Oct.16: 7pm-9pm Culture is the key Oct. 23: 7pm-9pm Hacky Practice Duration: 4 x 2 Hours
What you will learn
A new approach to languages that will break language learning myths
Self-awareness, confidence and enthusiasm
How to most effectively learn your language to set you up for success
What you will get
A failure-approved, experimental and supportive class environment
Lots of participation and engaging content
Results that are applicable far beyond the class experience
A new appreciation for learning, human potential and global impact
---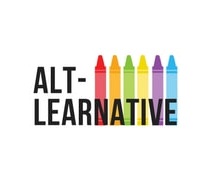 The Alt-Learnative Project is revolutionising education and activating human potential. Through an experimental and playful approach to learning, we are making finding your vision and purpose more accessible, empowering, enjoyable and community-driven. Our model goes deeper and is more sustainable that current online courses or traditional education.
+ More