Description
This class is run by Louise Barbagallo, a fashion designer (for the likes of Peter Alexander) who became aware of the impact of her work on the environment and made a move away to create A Consciously Aware Community.
Also a qualified and practicing yoga teacher, Louise brings a meditative practice and the power of creation together in this class in order to inspire and encourage awareness of self, potential and the world.
+ More
Class Schedule
Thursday, 05 Oct 6:30 PM to 26 Oct 8:30 PM Duration: 4 x 2 Hours
What you will learn
Relaxation and meditation
Instruction in the craft of macramé
An understanding of the impact of fast fashion on the environment
What you will get
A failure-approved, experimental and supportive class environment
Lots of participation and engaging content
Results that are applicable far beyond the class experience
A new appreciation for learning, human potential and global impact
---
What to wear
Appropriate clothing that won't restrict your movement
---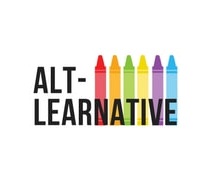 The Alt-Learnative Project is revolutionising education and activating human potential. Through an experimental and playful approach to learning, we are making finding your vision and purpose more accessible, empowering, enjoyable and community-driven. Our model goes deeper and is more sustainable that current online courses or traditional education.
+ More