Description
Join the latest artistic woodwork craze!
Learn to carve a beautiful functional or decorative wooden spoon, using a piece of seasoned hardwood, which has been rescued from the waste stream.
Careful...spoon carving is too much fun so it can become addictive!
+ More
Class Schedule
9:00 AM to 12:00 PM
What you will learn
Carve a beautiful functional or decorative wooden spoon.
Work with seasoned hardwood.
Learn to use a range of hand toos we use to carve spoons.
What you will get
Expert tuition from an experienced teacher
Take home your wonderful completed spoon!
---
What to bring
Just your curiosity, enthusiasm and love for crafting with wood!
What to wear
Sturdy covered shoes are essential. Comfortable casual clothing recommended.
Appropriate for
Adults and those aged 15 and over.
---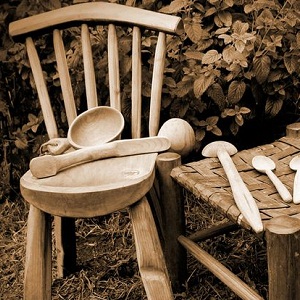 I often feel I am the luckiest person alive, as I do restoration/renovation/repair work on lovely old houses, build furniture and joinery for discerning customers, and engage in community projects with my woodworking skills and experience. What a delight it is to work with wood every day: To feel the pleasures of that interaction between wood, mind, body and hand tools; to convert rough looking or old timber into dimensioned material and products of great beauty; and to make a contribution towards a more sustainable existence by recycling timber which would otherwise have gone into land fill.
Check out our workshops. Our focus is on traditional hand tool woodworking skills and techniques - from the foundational skills to the very advanced skills. Therefore we can make just about anything!
+ More