Puppet Making - Mini Me Muppets

What You Will Learn
---
How to make a puppet
Working with felt, fleece, sewing & glue
What You Get
---
Your very own mini me muppet made by you
What to Bring
---
Hair - wool, or a wig to chop up
Accessories - hair clips, bracelets (necklace for your muppet), clip on earrings, fake nails, fake eyelashes
Supplied by Thread Den - goggly eyes, hobby fill, head foam, thread
1 metre of a fabric, we recommend - stable fleece, corduroy, boiled wool, sturdy fleece
About This Course
---
An exclusive event creative for Craft Cubed 2014
Has it been your secret childhood dream to have a vantriloquist act? Have you wanted to make your own puppet? The muppet guru Meagan is going to take us through the production of Muppet Puppets. There is a combination of machine sewing, hand sewing and crafty techniques to add in all the details that make your muppet. The Muppets involve foam, filling, fleece, felt and more things that don't start with "F" and therefore don't belong here.
Harder to get materials are supplied by Thread Den, the essentials that make it look like you are to bought along by participants.
Each one will come to life with its own personality... a mini version of your personality that is.
We'll teach just what you need to know to walk out with your own muppet.
Bookings and Cancellations Policy – Click Here
This class is offered as for special events only - Craft Cubed and Christmas in 2014, and taught by Meagan. The regular class price is $125 (and is subject to membership discounts).
---
Course Offered By
---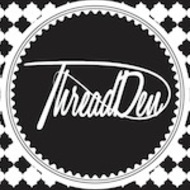 Thread Den
Boasting a fully equiped sewing lounge, offering sewing lessons, craft classes, dressmaking projects and vintage glamour workshops - in two studio spaces, at one convenient location in Collingwood. At Thread Den it's just like your girlfrien...