Time for Drawing 4-Week Drawing and Movement Studio 20.8.15 - 10.9.15
---
---
Description
4-Week Drawing and Movement Studio: 20.8.15 - 10.9.15
Every child is an artist. The problem is how to remain artists once we grow up - Pablo Picasso
We often draw with a fixed idea of what we want. We try to be accurate but we miss what is really there - the rhythms, the tones, the harmonies, the very life of a thing. In this 4-week course we will explore how to see past what the mind thinks it knows. We will be exploring the art of seeing and listening through freehand drawing.
Evenings will begin with a somatic focus on mindfulness and movement to tune our perceptions and deepen our connection to ourselves and the world around us. Guided drawing practice will introduce different drawing techniques and themes to support participant's learning at multiple levels of experience. Drawing with charcoal, ink and water in a safe and relaxed atmosphere will allow us to explore how this process changes the way we see and becomes visible in our drawings.
Both beginners and experienced drawers are welcome. Limited places.
Teacher: Rena Czaplinska-Archer PhD
RENA is an architect, artist, somatic practitioner, former Sydney University Architecture Faculty Lecturer in Design and Drawing for over 20 years, student of Anna Halprin and a founder of Time for Drawing workshops. Her process helps the participants to shift from their habitual ways of moving, seeing and thinking and releases their natural impulse to draw.
Website: www.timefordrawing.rena.net.au or go to www.facebook.com/timefordrawing
What Her Students Have to Say About Rena
"Rena is uncompromising in her effort to get us to let go of our preconceived notions about drawing and this resulted in some beautifully free and fluid work" Paul Selwood, sculptor
"It was so marvellous to have a complete change of pace last weekend and be using my senses and hand rather than brain... just what i needed ." Jenny Wilson, writer
"With the challenges we face in the creative sector, as part of re-designing the way our cities and environments are built, it is exactly these sensory based explorations, that will open new ways of working for us. Rena's contagious enthusiasm for this quest is a force for good." Caroline Robinson, artist
+ More
Class Schedule
Thursday evening, 20 Aug to 10 Sep 2015, 6:30 PM - 9:30 PM
What you will learn
Drop the thinking mind with its preconceived ideas
Explore the art of Touching and being Touched through Drawing
What you will get
Reclaim and deepen your drawing skills
---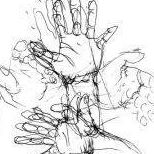 Rena Czaplinska is fascinated by the question of seeing and perceptions and inspired by her lifelong research in somatic movement with Anna Halprin and the writing of Juhanii Pallasmaa.
She is a practicing architect and a passionate art educator who has taught design and drawing for over 20 years at the Architecture Faculty of Sydney University and developed a popular Time for Drawing program which helps the participants to shift from their habitual ways of moving, seeing and thinking and releases their natural impulse to draw.
Rena offers Time for Drawing workshops in Australia and internationally.
+ More