Description
Trash Puppets recognises the unique challenge teachers face in engaging students in sustainability.
Our workshops not only give students a creative opportunity to experience sustainability, but also compliments early learning standards in a range of areas.
The Trash Puppets experience:
encourages creative, reflective, and critical thinking
gets students solving complex supply and design problems
offers opportunities to plan, experiment, take risks, and question
imparts meaningful puppetry knowledge, puppet-making technique, and core sustainability principles.
Trash Puppets' kindergarten puppetry workshop runs for 90min and includes:
Prepatory info, including guidelines for 'trash' collection so your students can fully experience our waste reduction message.

Two of our sparky Trash Leaders to facilitate.

Trash 'vetting' - ensuring your collection is safe and clean.

Construction materials (scissors, tape, string, etc.)

Each student leaves with their very own working trash puppet masterpiece!
------------------------------------
Please also note:
our minimum call is two hours.
price includes 'trash sorting' time prior to first workshop. We can also supply trash if you cannot.
groups of 30+ participants require additional trash leaders at additional cost.
locations further than 30min from melbourne CBD will incur additional travel fees - please select these from "Merchandise"
prices and inclusions are subject to change without notice.
------------------------------------
You can also email info@trashpuppets.com to get a quote specific to your requirements.
+ More
Class Schedule
Our schools workshops are bookable throughout school terms.
What you will learn
Sustainability - touching on areas of design, recycling, and waste reduction.
Puppetry - visual and performing arts.
Free, creative expression.
What you will get
Each student creates their own working trash puppet!
---
What to bring
Minimum 1 x grocery bag (per student) of clean 'trash' as per TP Collection Request
Appropriate for
Kindergartens and playgroups
---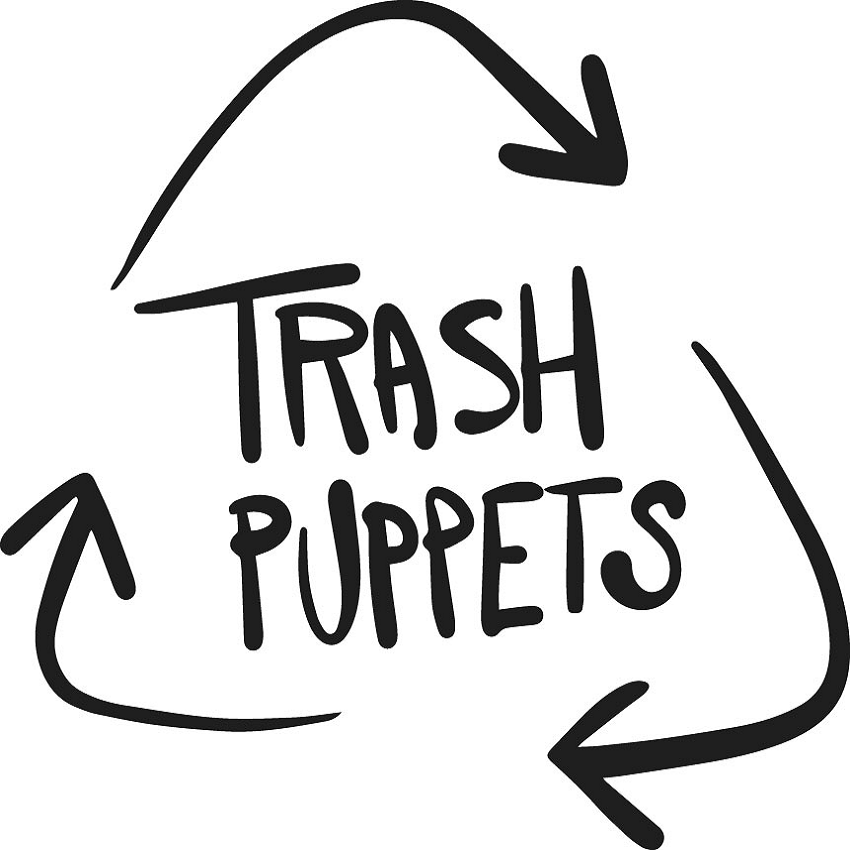 Our mission at Trash Puppets is simple. We educate both children and adults alike on the concepts of sustainability, with a particular focus on waste reduction, through creative workshops and interactive performances where imaginations are expanded and play is key.
Our overarching message is one of great importance. Waste and its associated impacts, such as pollution, threaten the sustainability of our planet. Trash Puppets works with 100% recycled/ reused materials, donated by many, including our participants themselves. Creating something new, something unique and special from what other may deem "trash" sends the message that we can, as a society, waste less and highlights the importance of recycling.
Participants will also gain an insight in to the wonderful art form that is puppetry. Our Creative Director Jhess Knight is a highly trained professional puppeteer and puppet maker, passionate about sharing her craft with the community. In this digital age, playing with tangible materials is often something that we miss out on. Trash Puppets aims to encourage creative thinking, excite your imagination with puppetry and broaden your understanding of sustainable practices.
+ More
---
Cancelation & Refund Policy
If you cancel your booking more than two weeks before the event, full refund of deposit will be made. Cancellations made within 14 days of the event date will not receive a deposit refund.
+ More
Terms & Conditions
By hiring Trash Puppets you agree to:
pay a minimum 50% deposit to within 14 days of making your booking (unless otherwise negotiated)

pay the balance 50% of our hireage fees within 14 days of your event occurring

forfeit your 50% deposit if you cancel your event within 14 days of the booked date

provide a safe working environment for our staff

provide an adequate and appropriate space for the event to occur within

advise us in writing (email to info@trashpuppets.com) if the circumstances of your event change after booking. Key changes include (but are not limited to):

the number of participants

the location

whether puppet-making material (i.e. 'trash') is supplied by participants or by Trash Puppets

contact person on the day.
Trash Puppets will ensure that:
all our staff hold valid Working With Children checks

our services are delivered as described, with professionalism (and fun!)

your deposit is refunded if you cancel your event more than 14 days out from the booked date

all trash provided by participants is sorted by our staff assuring materials are clean and safe

our Public Liability insurance is adequate and current.
Other considerations
The terms, fees, and contents of this agreement remain strictly confidential, utilised only in connection with the booking made.

Trash Puppets may take photos/ videos to record the event, avoiding identifiable features of staff/ participants.

Changes to your booking may incur additional fees.

Trash Puppets staff require breaks during events that run more than 3.5hrs.
If you have any questions or concerns, please phone us on 0406 310 144 or email info@trashpuppets.com.
+ More
---