Description
Texture and designs are mostly made up from variations of knit and purl stitches - simples!
This is a project based class, so you will take home a completed or almost completed scarf or cowl.
Texture can be an effective way to add detail and interest into your finished pieces and enable you to embellish and personalise your knitting.
Newer knitters can be a little put off by some of the seemingly complicated methods of adding texture and designs to their work. During this class, Leanne with gently take you beyond basic stocking stitch and show you how to add texture with confidence.
Students MUST be CONFIDENT with the knit and purl stitches.
We will be using the patterns of the enormously talented Georgie from tikki. Choose from a straight scarf or a circular cowl. Patterns and all supplies can be purchased in store.
Enjoy a lovely, complimentary Devonshire Tea that will make your class experience super special. Think fresh scones, house made lemon curd, organic plum jam from the Rushworth area and fresh whipped cream, no canned stuff here, just like Nana would have served, barista made coffee or a fresh brewed tea, with a tea cosy of course. You may book another class just for the excuse to devour another.
Our classes are held in a fun and supportive environment. There is no such thing as a silly quests or a mistake that Leanne hasn't already made, and pulling your knitting apart builds character!
+ More
Class Schedule
This class is divided into two, two hour sessions which take place over a fortnight wth work to be completed at home in between.
What you will learn
Create texture and patterns using knit and purl stitches.
Create designs using simple lace and colour work.
Ability to read a pattern and charts.
What you will get
A beautiful, unique scarf or cowl to take home.
Detailed class notes.
---
What to bring
Either Digory KIrke or Polly Plumber pattern
Two 100gm balls of DK/8ply yarn in contrasting colours.
3.75mm needles
What to wear
Casual Attire
Appropriate for
Advanced beginner, must be confident in doing knit and purl stitch.
---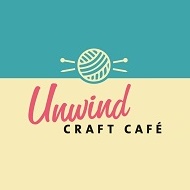 Unwind Craft Cafe is the dream creation of Robyn, to provide a warm and inviting place for lovers of vintage, retro, handmade, and anyone who enjoys good old fashioned cafe treats that are made with love, our barista made coffee and tea selection are a good enough reason to just pop in and Unwind.
Why not grab a friend or someone special and enjoy our delicious house made Devonshire tea, fresh whipped cream, house made lemon curd (you may lick the jar as many of our customers do) home made jam with organic fruit from a family property in Rushworth, all served up with an appealing retro vintage feel, vintage tea cups and a tea cozy of course.
You will be greated by our lovely staff and an amazing colourful wall of Bendigo Woollen Mills Yarn, the store is a buzz with all the handmade wares for you to purchase or order.
You will often see someone learning a new craft, or selecting the yarn for a new project, which adds to the special atmosphere at Unwind.
We have a dedicated space for private functions, crafty catch ups for those who want to linger longer, retirement village outings or any other use we may not have thought of yet. With food and beveridges provided from our fantastic menu, let us organise a special gathering for you, add a teacher and we can incorporate a lesson or fun craft activity, perfect for team building or getting your guests involved and making it an extra special event.
With our stressful busy lives, the ever increasing screen and device time, knitting and crochet are back in vogue not only for creativity, also for their fantastic ability to help us relax and Unwind, do not under estimate this truly magical side effect of these time honoured crafts.
Children aged around 10 or older benefit greatly from Knitting and crochet, it is also something that an adult and child can do together, it builds lasting connections and fond memories, not to mention great for manual dexterity and mindfulness.
A great selection of yarn, books, knitting and crochet tools are also available, with someone who actual knows what they are selling and how to use the products (very rare today) so nothing left for you to do, other than book a class, pop in for a cafe treat, or organise that special function.
Let us help you Unwind real soon, we no you deserve it!
Check out what's on at our cafe!
+ More
---
Terms & Conditions
Unwind Class Terms & Conditions
Payment for Classes: Our classes are kept small in order to maximise your learning experience. This means you will receive individual attention during class, but it also means that places are limited.
In order to reserve a space in a class you must pay the full registration fee in advance. Payments and bookings are via We Teach Me (our preferred booking and payment system), in the store, or over the phone on (03) 9336 0687, using PayPal or a credit card.
Booking and Cancellations:We understand that things happen and sometimes you are unable to attend a class. However, in order to cover our teacher and class costs, please be aware of the following when booking your class.
Cancellations or changes of date made with 7 or more days notice will receive a full refund less $10 administration fee. This can be a refund or a credit to another class.
Cancellations or changes of date made with less than 7 days notice may forfeit 50% of the class fee*. This can be a refund or a credit toward another class.
Cancellations or changes of date made with less than 48 hours notice may forfeit full fee*. No refund or credit will be given.
Missing a second or subsequent session of a multi-session class there is no refund for missed session. Make up sessions are generally not available, however our teacher may be willing to arrange another date for session, or attend one of our social events (assistance may be offered if teacher is present or from fellow participants) or book a private class.
*All reimbursements are made at the discretion of the shop owner and are determined on a case by case basis.
Occasionally, Unwind may cancel a class* due to low booking numbers. We really don't like doing this as we love to teach people to knit, crochet and scrumble, but if we don't cover our costs we can't run the class. If Unwind must cancel a class, enrolled participants will be notified 24 hours or more prior to the scheduled class and will receive a credit for the replacement class or a full refund as required.
Our lovely teachers realise this may be disappointing for some participants (it's disappointing for them too!), and are willing to provide a Private or Small Group Lesson** if a cancellation due to low booking numbers occurs.
*Cancellations are at the discretion of the teacher and Unwind Craft Café.**Private (one participant) and Small Group (two participants) Lessons cost a little more, however you benefit from the individual attention from our teacher.
Supplies/Materials:To avoid the disappointment and frustration that occurs when using inferior tools, we ask that any specific materials be purchased from the shop and you do not substitute.
Students may be able to purchase supplies via We Teach Me when booking a class or from the store. Please arrive at least 15-30min early to purchase supplies if you have not already done so prior to class.
Please support your local yarn store and purchase your supplies at Unwind Craft Café.
Patterns: A link to Ravelry for any class patterns will be included on the class booking page on We Teach Me. For customers that are not familiar with Ravelry, patterns can be brought in store and sent to you (or someone you nominate) via email.
+ More
---