Like weely giveaways? Like exclusive classes? Like special offers?
Then your'll love our Newsletter!
Floreat Cooking Playdate - ALL AGES
---
---
Description
To cover overheads, a minimum number of children are required for the classes to go ahead. Notification of class cancellation will be made 5 days before the scheduled date and a FULL refund issued. To avoid this, your support in promoting the class will be highly appreciated. ie. share with friends for a playdate. Maximum class size - 16 children
Proposed dates for our Floreat classes are Monday the 9th &Tuesday the 10th of July.
Session Times 10.30am & 1pm, (90 minute duration)
Expression of interest for a playdate or single booking can be made via email or phone.
info@whats2eat.com.au OR 6201 5054. Online booking is not available.
Group Booking (ie Playdate) discount offered for 8 or more children.
Voucher redemption bookings MUST be made via email to our office. info@whats2eat.com.au
Children of all ages are welcome however we do recommend the age range for your group is no greater than 5 years. eg 3 - 7yo's; 5-9yo's. Having said that, our experience shows this is not an issue when all the kids know each other. ie full class of 16 kids.
Our planned recipe for these holidays is Sausage Roll/Kofta. This recipe includes 6 veg and we have replaced pastry with a much healthier option.This class is a great way to inspire your kids to have fun whilst cooking - with the added advantages of learning cooking skills and making healthy food.. using teamwork (Just like meal prep should be at home) The class incorporates a range of skills development that are age specific.
We can help your child conquer fussy eating, boost their self-confidence and gain lifelong healthy eating habits. 3 of the veg are often unfamiliar to children but once they taste their creation they will be keen for these vegies to used in soups & casseroles at home.
Our cooking classes are hands-on with the kids, involving them in every stage. In this way, the children gain ownership of their food and are more willing to try new foods. We do ask that EVERY child "tries" at least 1 teaspoon full of the food they have prepared.
+ More
What you will learn
Gain the confidence to use this recipe at home - Cooking for the family.
How to enjoy the food they make - foods they may be dis-inclined to eat.
What you will get
Discover the joy in using their new-found skills
Share the food they have made with Parents as they join our picnic at the end of the class! Parents are also expected to eat the food (unless allergy concerns) and follow with praise to their child
A wonderful memory of fun with friends!
---
What to bring
Smile & Appetite. Please ensure your child is NOT starving as they will not be eating for over an hour. It is difficult to make a recipe when the ingredients have been eaten.
Parents' of 3-5yo's required to stay but all welcome..
Prompt arrival and pick-up is highly appreciated.
What to wear
Casual ( we may get quite messy); Closed shoes to be worn & long hair tied back
Appropriate for
Children of all ages with an interest in cooking! No experience necessary
---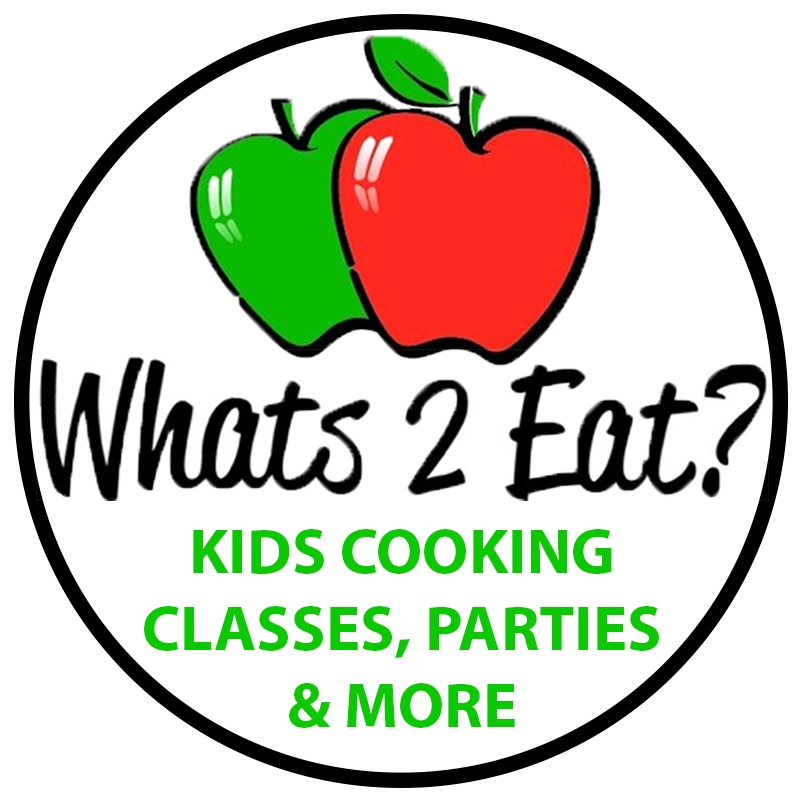 At Whats 2 Eat? our aim is to sell to your children the fun of cooking and making recipes using fresh whole foods.
"Sell ?" you think. Yes! We want to promote basic foods which don't have the huge advertising budgets of processed foods.
Convenience is often the priority on which our food choices are made and this often leads to a diet high in salt, sugar and fat and low in fibre. Our fun classes will direct kids to foods which will achieve better health outcomes. We aim to not only alter your child's diet by having them make our quick and easy recipes thereby reducing their intake of processed foods and altering their perception of foods they do not like.
Our cooking classes are hands-on with the kids, involving them in every stage – from harvesting foods in the garden to peeling, grating, mixing, chopping and cooking their ingredients in the kitchen, all under strict supervision. We will stimulate kids taste buds and all other senses important to enjoying food, and surprise you with how easily these foods can be prepared. In this way, they achieve ownership of their food and are willing to try new things. You will be surprised at the results! We believe that cooking skills can boost the self-esteem and confidence of a child, and that their pride in these newfound abilities will encourage lifelong healthier eating habits.
Yes, we do use sugar, salt and fat in our recipes but not by the truck load, and you know exactly what ingredients go into each recipe. Have you ever had trouble reading the list of ingredients on a food packet? Your grandmother would struggle to find something she could call food.
At What's 2 Eat we avoid the use of the word "healthy" which can be off-putting to children. Making the best food choices will affect your child's energy levels, learning ability and memory, moods and body image along with general ability to cope with life's stresses, their complexion, hair health and weight management and then… all of that medico stuff which I will leave for the doctors etc. to tell you about.
Making better food choices can be easy and it is our mission to show all children how.
+ More