Lines of Rejection
---
Book Now (http://weteachme.com/l/tiJtp2zr)
---
Description
'Lines of Rejection'
Facilitated by Zeb Brierley, Registered Art Therapist, Spiritual Counsellor
How has rejection defined your life?
Through this workshop using art therapy and spiritual counseling, you will have the opportunity to see and understand the impact rejection has had on your life and the ways it has compromised authenticity. You will look at how 'you go along to get along' and then make the choice to shape your own path by standing strong and living your truth.
N.B. Artistic ability is not necessary for this workshop just a willingness to grow
About Zeb Brierley
Zeb brings years of experience to her current work. She has had a background as a drama teacher and actor before retraining for the work she has been committed to for the last 15 years. She lectures in art therapy as well as having her own practice in the Gippsland region where she regularly runs groups and does individual consultations. Her work has at its core, a spiritual approach informed by values that inform a conscious way of living one's life with accountability.
For further information please contact Zeb on 0413 705 246 or zeb@zebarttherapy.com.au
+ More
What you will learn
How patterns of perceived rejection impact on quality of life
How you try to fit in compromising the real you
How you edit your truth so as not to risk rejection
What you will get
Recognising what life could look like without the impact of rejection being a driving force
Standing strong in oneself
Living one's own truth
---
What to bring
All materials are supplied-just bring yourself!
Appropriate for
N.B. Artistic ability is not necessary for this workshop just a willingness to grow
---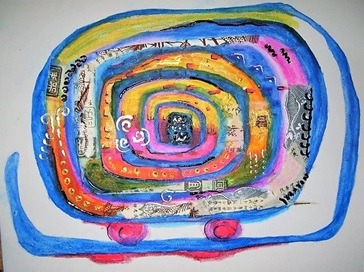 Using art therapy & spiritual counselling to facilitate change and growth to be on your path- Zeb uses creative approaches to challenge people to take responsibility for life choices and release the belief systems that keep them stuck.
+ More
---
Cancellation & Refund Policy
*N.B. Tickets to all classes are non-refundable, however with a minimum of 48 hours cancellation notice you may transfer your ticket to another date or gift it to a friend. Please contact me to arrange this by email: zeb@zebarttherapy.com.au
+ More
---