Description
Travelling next week (or the week after) and forgot to learn Spanish? Or left it too late to complete a course? This 4-hour single session will give you an introduction to the basics and get you comfortable using tools such as a travel phrasebook, apps for traveller Spanish, or self study materials. It would even be helpful as a refresher if you've done some beginner Spanish and would like to give it a new lease of life.
Small, fun and social, with a teacher who knows how to teach languages! You'll be in a group with other like-minded people who are all wanting to learn and improve—whilst having fun.
What you learn ...
​

greetings

pronunciation / the alphabet
asking / answering basic questions (name / nationality / profession / residence) (¿cómo te llamas? ¿de dónde eres?)
talking about countries where Spanish is spoken
numbers (uno, dos, tres, cuatro …)
telling the time (¿qué hora es? son las 2 de la mañana)
practice with timetables (los horarios)
asking / saying what time transport leaves / arrives (¿a qué hora sale? sale a las 3 y media)
vocabulary for different parts of the city (station / square / street) (la estación / la plaza / la calle)
asking / saying where something is (¿dónde está? está en la calle ...)

vocabulary for food and drinks (¡tengo hambre!)

menus and ordering in a restaurant / bar (¿qué quieres comer?)
+ More
Class Schedule
Duration: 4 Hours
What you will learn
Greetings / presentations (¿cómo te llamas? / me llamo ... )
Asking / saying your name, nationality, what you do, where you live
Pronunciation / the alphabet / numbers ... more below
What you will get
Study materials are included in the course fee.
---
What to bring
Pen, paper and heaps of enthusiasm!
---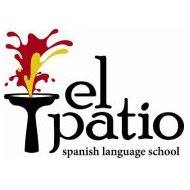 El Patio specialises in Spanish, with short courses for beginners through to proficient. We pride ourselves on our healthy numbers of continuing students at advanced levels. Classes are small, serious but fun, and are suitable for those wishing to become fluent in Spanish, for travellers, partners of Spanish-speakers, and those who want to train their brain.
+ More