Spanish Pre-Intermediate 2 (South Yarra)
---
Next Available: 10 Oct 11:30AM
---
Description
Early Bird: enrol before June 26!
Spanish Pre-Intermediate 2
Book: Aula Internacional 2, New Edition-Units 3, 4, 5
Unidad 3 -Mi casa es tu casa
Functional
Describe a house
Make comparisons
Grammar
Prepositions of location
Comparatives (más/menos que…/tan(to/a) (s) como)
Vocabulary
Types of housing and spaces in a home (room, location, etc)
Furniture
Cultural
Types of housing in a Spanish speaking country
Final task
Orally present a house/an architectural space you like (preferably from the Spanish speaking world)
Unidad 4-¿Cómo va todo?
Functional
Make requests and ask for favours
Ask for, give or decline permission
Give excuses
Grammar
ESTAR + gerundio
Condicional (for polite requests)
DEJAR/ PRESTAR
Vocabulary
Codified expressions for specific situations such as asking for favours, making requests, greeting and giving excuses
Cultural
Different ways of address in the Spanish-speaking world.
Final task
You will demonstrate your knowledge of polite requests and interaction in a class role play
Unidad 5-Guía del ocio
Functional
Talking about free time activities
Talking about future plans
Talking about past experiences
Describing places in cultural terms
Grammar
Pretérito Perfecto (Present Perfect)
ya no/todavía
IR +A+ infinitivo
Vocabulary
Vocabulary related to free time and cultural activities
Vocabulary related to holidays
Cultural ¿A dónde vamos?
Going out in a Spanish-speaking country
Learn Spanish, Spanish Classes, Spanish School, Spanish, Spanish lessons, Spanish travellers, Spanish conversation, Spanish for Beginners, Intermediate Spanish, South Yarra
+ More
Class Schedule
Term 3 2017 Tuesdays, 7.30-9pm from July 18 to Sept 19 (10 classes)
What you will learn
Describe your ideal house
Make requests and ask for and give favours, describe actions in progress and talk about future plans
Talk about past experiences
---
What to bring
Textbook: Spanish Pre-Intermediate 2
---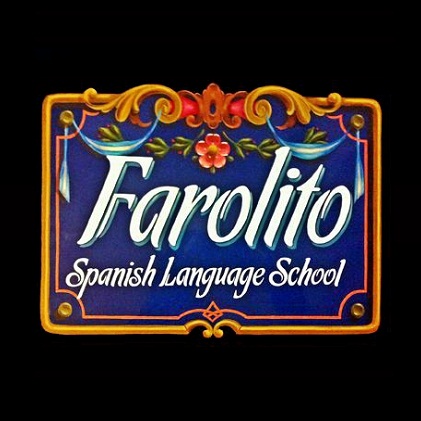 At Farolito Spanish Language School we pride ourselves of being fully dedicated to the teaching and promotion of Spanish language and Hispanic-Latin American cultures.
All our teachers are experienced and qualified to deliver quality teaching to adults and/or children.
All our teachers are native speakers of Spanish: you will hear the language as spoken in their countries of origin.
Farolito's classes are small (Avarage 5 students), with plenty of opportunity for conversation and clarifying doubts.
Your teacher gets to know you better and you progress more effectively in your learning.
We believe that communication is the key to learning and demonstrate it in our classes, whilst addressing all language competencies (speaking, listening, reading and writing) for complete language literacy.
We use proven methods and textbooks successful worldwide; our levels are in accordance with the Common European Framework of Reference for Languages which ensures that outcomes are consistent.
Farolito offers levels from Beginners to Advance Conversation: we are supportive throughout your learning experience from first steps to fluency.
We provide an exclusive learning zone for Farolito Spanish Language School students with support material to advance your learning.
Our Farolito community is alive by our regular activities, events and forum for student's exchange. We provide a fun and friendly environment, you will learn with gusto!
+ More
---
Cancelation & Refund Policy
Farolito Spanish Language School refund policy
Enrolments for group classes or private lessons are non-refundable

,

please choose carefully before enroling.
Credit options are available in case of extreme circumstances (E.g. sickness) in the first week of a course to be used in other course within a specific time (subject to availability).
+ More
Terms & Conditions
Farolito Spanish Language School terms and conditions of enrolment:
1. Refunds: Enrolments are non-refundable or redeemable for private lessons, please choose carefully before enroling.
2. Payment dates: Full payment of a course is required to process a booking. Full payment should be made before the term starting date.
3. Class cancellations: A minimum of 3 students is required to open a course. Payments are fully refunded in the event of cancellation of classes on behalf of Farolito Spanish.
4. Levels: We will ensure to recommend you the right level. However, we understand that sometimes it is difficult to find your feet on the right level. Changes are possible within the first week of the course you have enrolled in. Please contact us to discuss your options. Changes will be subjected to availability, as places are limited.
5. Payment: Full payment of a course is required to process a booking. Full payment should be made before the term starting date.
6. Missed classes: With our Farolito 'student's only' Wiki website you will have access to class materials, and you can use the forum or e-mail to ask questions and contact your teacher. If you missed a class you are also welcome to attend another one on that same week (at the same or lower level) to maintain the contact with the language (subject to students' numbers, please contact us before attending a make up class). Missed classes are not refounded.
7. Students number: A minimum of 3 students is required to open a course. In the case of a group class having less than 3 students Farolito reserves the right to shorten the class time to by 30min.
8. Private lessons: Please give note 48hs in advance to reschedule your class. Classes which are cancelled within 48hs to the scheduled time will be charged in full. Farolito Spanish will ensure to inform you in advace of any changes to your scheduled booking (Eg. Your teacher is sick and there is no replacement available). Block bookings are non-refundable, please choose carefully before enroling.
+ More
---