Like weely giveaways? Like exclusive classes? Like special offers?
Then your'll love our Newsletter!
Spanish Upper Intermediate 2
---
---
Description
Spanish Upper Intermediate 2 (B2.1)
Aula Internacional 4 (Nueva Edición) - Units 3 and 4
Unidad 3-Yo nunca lo haría: Decidir qué compañeros pueden participar de un reality show
Functional
Give advice
Refer to hypothetical situations
Giving opinion about actions and behaviour
Expressing wishes
Expressing disbelief
Grammar
Condicional
Advise: Te recomiendo/ te aconsejo/ te sugiero que… + Subjuntivo
Imperfecto de Subjuntivo
Vocabulary
Vocabulary related to sports and traditions
Expressing reactions dar asco/ pena/ miedo/ pánico…
Cultural
Sports and traditions in the Spanish speaking world
Final task
Decide who can participate in a reality TV show and why
Unidad 4- Maneras de vivir: Diseñar un paraíso donde vivir
Functional
Express intention and purpose
Give advice and make proposals
Talk about feelings, character traits and personality
Talk about qualities for persons and objects
Grammar
Imperfect Subjunctive
Some uses of por and para
Relative clauses tenses agreement
Connecting words to add, soften, contrast and disagree with information
Vocabulary
Vocabulary to discuss personal relationships and character
Urban tribes
Some prepositional verbs
Cultural
Final task
Design and describe a living paradise
+ More
What you will learn
Talk about the news
Give and exchange opinions
Talk about hypothetical situations
---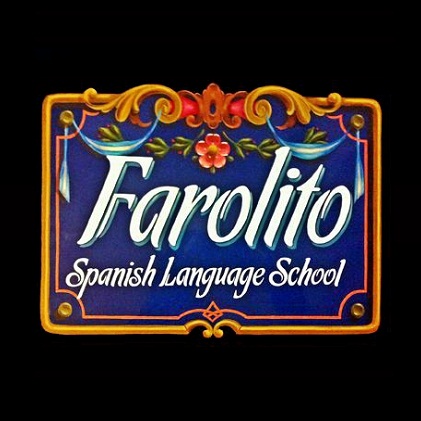 At Farolito Spanish Language School we pride ourselves of being fully dedicated to the teaching and promotion of Spanish language and Hispanic-Latin American cultures.
All our teachers are experienced and qualified to deliver quality teaching to adults and/or children.
All our teachers are native speakers of Spanish: you will hear the language as spoken in their countries of origin.
Farolito's classes are small (Avarage 5 students), with plenty of opportunity for conversation and clarifying doubts.
Your teacher gets to know you better and you progress more effectively in your learning.
We believe that communication is the key to learning and demonstrate it in our classes, whilst addressing all language competencies (speaking, listening, reading and writing) for complete language literacy.
We use proven methods and textbooks successful worldwide; our levels are in accordance with the Common European Framework of Reference for Languages which ensures that outcomes are consistent.
Farolito offers levels from Beginners to Advance Conversation: we are supportive throughout your learning experience from first steps to fluency.
We provide an exclusive learning zone for Farolito Spanish Language School students with support material to advance your learning.
Our Farolito community is alive by our regular activities, events and forum for student's exchange. We provide a fun and friendly environment, you will learn with gusto!
+ More
---
Cancellation & Refund Policy
Farolito Spanish Language School refund policy
Enrolments for group classes or private lessons are non-refundable

,

please choose carefully before enroling.
Credit options are available in case of extreme circumstances (E.g. sickness) in the first week of a course to be used in other course within a specific time (subject to availability).
+ More
Terms & Conditions
Farolito Spanish Language School terms and conditions of enrolment:
1. Refunds. Enrolments are NOT refundable. Group courses are not refundable or redeemable for private lessons, please choose carefully before enroling.
2. Payment dates. Full payment of a course is required to process a booking. Full payment should be made before the term starting date.
3. Group classes cancellations.
A minimum of 3 students is required to open a group course. Payments are fully refunded in the event of cancellation of classes on behalf of Farolito Spanish.
In the case of a group class having less than 3 students, Farolito reserves the right to shorten the course at its discretion.
4. Credit and Deferment.
Credit options are available in case of extreme circumstances (E.g. sickness) in the first week of a course to be used for the next available Term (subjected to availability). Credit transfer will incur a $40 administration fee.
In any other circumstances, enrolments are non-refundable, transferable to other person or, in the case of group classes) redeemable for private lessons, please choose carefully before enrolling.
5. Levels. We will ensure to recommend you the right level. However, we understand that sometimes it is difficult to find your feet on the right level.
Changes are only possible within the first week of the course you have enrolled in. Please contact us to discuss your options.
Changes will be subjected to availability, as places are limited.
For a level assessment please complete the following Level Assessment Test or contact us.
6. Payments options.
Credit Card (preferred). We receive credit card payments through our booking system (WeTeachMe), in person or over the phone on 9820 2299. Enrol online to receive a discounted fee.
Cash. Cash payments at our office 2/29b South Caroline, South Yarra 3141, VIC
Cheque. Payable to Farolito Spanish sent to: 2/39b Caroline St, South Yarra, 3141, VIC
Bank transfer or deposit (please state your name, purchase order or invoice number) to
Westpac Bank- Account Name: Farolito Spanish BSB 033169 # 320297
7. Group booking-Missed classes.
With our Farolito Blog Farolito Spanish-Nuestra Communidad you will have exclusive access to class materials and extra practice, content seen in each class as well as your assigned homework.
If you missed a class you are also welcome to attend another class on that same week (at the same or lower level) to maintain the contact with the language (subject to students' numbers, please contact us before attending a make up class). Make up classes are ONLY available during the period of enrolment (course duration).
Missed classes are NOT refunded.
8. Private lessons cancellations.
Please give notice 48h in advance if you need to cancel your class.
Lessons which are cancelled less than 48h before they were scheduled to take place will be charged in full.
Farolito Spanish will ensure to inform you in advance of any changes to your scheduled booking (Eg. Your teacher is sick and there is no replacement available).
Private lessons 5h block is to be completed within 10 wk, with no exception.
Private lessons 10h block is to be completed within 20 wk, with no exception.
Block bookings are NOT refundable, or transferable, please choose carefully before booking.
9. Gift vouchers.
Gift vouchers are valid for the period state in the voucher (usually 12 months from purchase date). Enrolment must be made for courses starting within that period.
Gift vouchers are NOT redeemable for cash, text books or private lessons (unless specified).
10. Multiple Term Booking.
Multiple terms are to be used by the same student in consecutive terms from enrolment.
Multiple terms bookings are NOT redeemable for private tuition.
No further discounts or special offers apply (unless clearly stated).
+ More
---