Calligraphy For Beginners Wednesday Evenings
---
---
Description
The Foundations of Calligraphy for Beginners
Historical alphabets modernized using the broad pen
Foundation Hand, Uncial, Gothic, Roman Capitals and Decorated Capitals and Ornamental flourishes.
Learn Composition & layout techniques. An introduction to many materials & tools how to use them all.
Step-by-step projects are included offering an exciting range of challenges drawing on all the skills learned.
Overview of Weekly Workshops:
Foundational – Establishing the Fundamentals – Session One
Roman and Foundational Capitals and seriffs
Uncial – Traditional and modern light versions
Pointed Gothic
Pointed Gothic Capitals & hybrid forms
Gothic Capitals and Decorated Capitals –Historical & modern
Each Session is a stand alone class and is an introduction to the style of the day and a mini project.
Cost:
$275 for entire 5-week course
Includes a starter kit valued at $30
Foundations of Calligraphy.
Learn historical alphabets using the broad pen.
Styles included are:
Foundational – Establishing the Fundamentals
Foundational – Minuscules, additional serifs & variations to the highly versatile roman minuscules
A Roman minuscule, highly versatile. Based on Edward Johnstons teachings. Beginning with an informal running bookhand and then add more formal serifs to expand this style repertoire through historical and contemporary hybrids.
Uncial – A modern variation of an early historical beauty
A modern variation of an early historical beauty. Uncials ample rotundity makes for a majestic, contrasting and elaborate hand easy to modernized style.
Capitals – Based on Imperial Roman Capitals – Proportions & principles of structure
Arguably the most important hand for any calligrapher to learn. Begin with skeleton letters drawn with pencil then pen & ink. These Roman capital proportions and characteristics are the bedrock for letter variations.
Black Letter – Gothic Minuscules
Textural and strikingly graphic. Learn a compressed and simple version of minuscule. Then experiment with wider styles & more ornamental variations. Take brief look at a few of the many historical styles.
Gothic Capitals and Ornate Decorated Capitals – Historical & modern
Elaborate and ornate decorative letters with vast possibilities. Learn how decorate with modern ornaments and flourishes. Related to BUT distinctly different from the Roman form.
+ More
Class Schedule
Duration: 3 Hours per session.
6pm- 9pm Wednesdays
Includes materials at $30 value
5 weekly workshops $275
What you will learn
Thorough in-depth instruction on creating every letter of each featured alphabet.
Learn simple layout techniques & how create small designs to impress.
Learn more by seeing loads of demonstration. And with the small group numbers, get plenty of individual attention.
What you will get
Booklet containing a comprehensive set of notes & instructions
Many extra materials are supplied for use in class including a range different inks, gouache and watercolours,
Inspiration & shared enthusiasm from your like minded fellow students
Each one-day workshop is themed, each lesson covering a specific topic aimed to build your skills
Full course students all receive a starter kit PLUS extra nib to keep. PLUS colours & tools & much more to use during the course. Value $60.00
Expert tuition from an experienced teacher and professional calligrapher!
Access to a vast library of calligraphy, art, and design reference books
Light refreshments - drinks, tea and chai and snacks
One-Day students receive starter kit with all the supplies you'll need for the day, this is to keep. Value $30.00
---
What to bring
Your enthusiasm to learn!
A note book, folder and sleeves for course exemplars & notes. If experienced bring your fav broad edged pens & materials
What to wear
Casual (This might get messy)
Appropriate for
Enthusiastic lovers of letters either or both in type or drawn, graphic designers, tattooists, graffitti artists & martians.
Calligraphy classes can be customised to suit the styles you want to learn on any given date. Call Lauchean to discuss 0417 326 406

---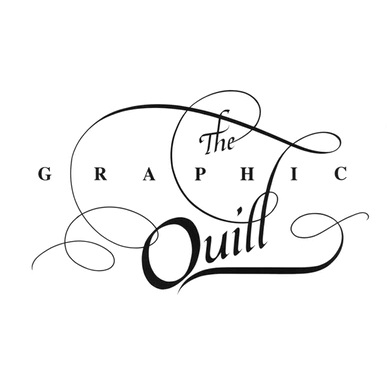 About Me "Lauchean" Your Teacher
Bringing an influence of tradition & craft to the table, I'm essentially a calligrapher, teacher, hand-lettering artist who works with letterforms to create art through design.
I fell in love with calligraphy even before I discovered what it was called.
This love of "Beautiful Writing" lead me to study "Ticket & Show Card Writing".
A small moment in time that has shaped my life.
I returned to study Art & Design as a mature aged student, then, on winning top folio in the state on Graduation, I landed on my feet as a Graphic Artist in a prestigious Design Studio. Opening THE GRAPHIC QUILL in 1991, specialising in calligraphy and design, my life as a passionate letterer was blossoming.
I was a pioneer at the time and didn't know it. With no internet and nowhere to look to see what was happening in my field. I was alone, so I made it up as I went. It's hard to imagine isn't? There was little to nothing available in individual or "bespoke" design choices for, what I termed "Celebration Stationery". So I designed my own custom ranges incorporating type and calligraphy and much more.
I was teaching way back in the mid 80's, at the College of Decoration, now merged with RMIT, at CAE for 10 years and running my own workshops and courses all over Victoria. Calligraphy was booming and I was in my element. Those classes kept me afloat financially and teaching taught me so much about my art.
In time built a business specialising in invitations incorporating Calligraphy and Design. My client list consisted of many top Australian corporate names including Crown Casino, BHP, Australian Grand Prix, Frontier Touring and International Film Makers to name but a few.
Calligraphy is no lost trade or art or craft. The uses for calligraphy and lettering is limited only by your imagination. Therefore the purpose of the work I do is vast.
From one off commissions to written words used for major films and everything in between.
Throughout my career I have continued to study the art of calligraphy. That's essential as it's a living and evolving art. Training with "Master Calligraphers" from around the world since my humble beginnings in the early 80's, I continue to do the same to this day.
To name a few of these International Masters: Shelia Waters, her son Julian, Christopher Haanes, Yves Leterme, Eliza Holliday, Charles Pearce, Thomas Ingmire, Graham McArthur and the list goes on laa la laa. I have traced the auspicious family tree of highly regarded teachers that I have had the honour to study with "write" back through the generations to Edward Johnston who is widely acknowledged for rediscovering my "LOST TRADE".
+ More