Like weely giveaways? Like exclusive classes? Like special offers?
Then your'll love our Newsletter!
Description
CLASSES RESUME SUN FEB 5TH 2017 (NB: No class October long weekend 1st Oct)
Join our life drawing classes any week. The class is open to all levels and is untutored, so some experience would be benifical. Different professional models are booked each week both male and female. You can pre book NOW by purchasing a 5 week block of classes for only $50. You also need to attend these classes consecutively otherwise casual rates apply of $15 per class on a first come first served basis. Places are strictly limited to 15, we recommend booking.
Our classes will run continuously every sunday until Dec 3rd 2017, you can also call the store to check availability if you haven't booked, or just pop into the store 10 minutes before class and pay at the counter.
Feel free to bring whatever media you would like to use. We have great facilities, easels , tables, water jars and disposable palettes for your use. We also have tea and coffee making facilities. Our art store will be open during class should you need any emergency supplies.
PLEASE NOTE: class numbers are capped to 10 places online and can be altered anytime based on in store enrolments. So if the class shows its booked out you can still ring the store to see if there are any more spots. In the unlikely case the class is overbooked we will contact you immediately to offer an alternate date or issue a refund. For this reason we also close online bookings 24hrs prior to start date.
There are two options for tickets, single class and 5 consecutive classes. The consecutive classes will start from the date you select from the drop down menu.
Suggested list:
Charcoal: willow and compressed.
Pencils: 2B, 4B, 6B
kneadable eraser
Hard eraser
A2 Cartridge or Butchers paper
Any other mediums you would like to work with, ie chalks, pastels, ink.
Our store is open during class so you can stock up on supplies as you need.
+ More
What you will learn
Enhance your sketching skills!
Discover the beauty of drawing from real life
Be inspired by your follow students
What you will get
Different models are booked each week both male and female.
Great facilities, easels , tables, water jars and disposable palettes for your use.
Biscuits, tea and coffee
Class size limited to 15
---
What to bring
See Equipment list.
Feel free to bring whatever media you would like to use
What to wear
Wear clothes you don't mind getting dirty.
Appropriate for
The class is open to all levels and is untutored
---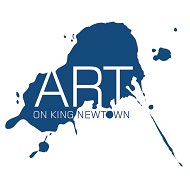 Art On King is the one stop store for art and craft supplies, joined with Modern Times Bookstore for books, games and cards. Art on King is also the home of Art on King studios where various art classes are held throughout the year.
+ More
---
Terms & Conditions
Terms for Enrolment
Attendance: Art On King Studios is not responsible for changes in your personal circumstances. We cannot facilitate make up classes. Your tutor is happy to advise you on work missed and offer homework exercises.
Transfers: Should your circumstances change and you give 7 days notice before the commencment of your course we can facilitate a course transfer to the following term. Transfers will be extended to a maximum of 2 terms. If you provide less than 7 days notice we can only provide a transfer should your course retain a minimum of 6 students to run. Administration fee of $20 applies to transfers with less than 7 days notice. In the case of prolonged illness or unforeseen circumstances we will do our best to accommodate a transfer to the next term but cannot guarantee a place.
Refund Policy: We do not give cash refunds. You must give 7 days notice in the event that you cannot attend a course you have enrolled in. An administration fee of $20 will be charged and you will receive the balance of course fees as a credit , which can be used in the store or towards another course. Any Art Kits or materials purchased for your course can be returned for credit if in a saleable, unused condition.
Cancellations: All classes need a minimum of 6 students to proceed. Should your course fail to meet minimum, we may either postpone the start date for 1 or 2 weeks or cancel the course. You will be informed at least 24 prior to start date. Your course fees will be refunded in full, or you may choose to transfer to another course. Should the new start date not suit your schedule you will also qualify for a full refund.
Discounts: Enrolled students receive 10% discount off all regular priced art materials from Art On King, for the duration of the course only. Art kits are discounted by 20%.
Fees: Are payable in advance and are for tuition only. You are not guaranteed a place in a course until all fees are paid in full. GST is included in course price.
Promotions: We run various promotions throughout the year. These discounts are valid only if your course runs and are not transferrable to another term. Any Gift vouchers offered are handed out on the first night of your class, and are not valid should your course be cancelled.
Gift Vouchers: Purchased course gift vouchers are valid for any courses we run and are transferrable to another person or for store credit if you choose not to take a course. Sorry no cash refunds are issued.
+ More
---