Consolidate & Advance Jewellery Making (Stage 4-9)
---
Next Available: Thu, 03 May 10:00AM
---
Description
Continue to advance your jewellery skills.
There is set project work in stages 4 to 9 to advance and consolidate your jewellery making skills as follows:
Stage 4 - Straight Collet Ring with Facetted Gem.
Stage 5 - Tappered Collet and Split Shank Ring with Facetted Gem.
Stage 6 -

Facetted Gem Drop Earrings.

Stage 7 -Large Gem Set Band Ring with Bezels and Edge Wires.
Stage 8 - Pendant and Chain with surface decoration (roller printing and or hammering) and Gems.
Stage 9 - Earrings with Set Gems
You design the stage 7 to 9 projects and discuss your proposed fabrication process with the teacher.
For more information on the Stages 4 to 9 and projects please, visit the Contemporary Metal website.
The cost of each Stage is $460 (inclusive of GST).
Silver can be purchased from the studio.
Classes are run on Saturday morning (9am to 1pm ) , Wednesday (10 am to 1pm ) and evening (5.30pm to 8.30pm ) in six week blocks.Note: In 2018 there will be Thursday morning and evening classes and no classes will be held on a Wednesday.
+ More
Class Schedule
The classes for each stage are three hours per week over a six week period. Note: There will no classes on the 25 and 27 Jan, Australia Day weekend and on the 29 and 31 March, Easter weekend
What you will learn
Continue to advance your jewellery skills. You must have completed either Stages 1 to 3 or have demonstrated jewellery skills.
Projects will be developed as a group and individually to accommodate different skill levels. Set projects are detailed below.
More advanced jewellery making skills.
What you will get
Your project jewellery.
More advanced jewellery making skills.
Skills developed include sawing, soldering, shaping and filing, melting metal, gem setting in various forms, shaping ring shanks, finishing and polishing.
---
What to bring
Your interest to learn.
An apron.
Research and design drawings for stages 7 to 9.
What to wear
Jeans/long pants, tee shirt, covered shoes and long hair tied back.
Appropriate for
Previous jewellery making skills required.
---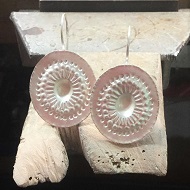 We are a contemporary jewellery studio and gallery run by local jeweller Philip Noakes, who has over forty years experience in making and teaching in the industry. Philip has exhibited extensively around Australia, and makes his own work and private commisions, as well as teaching from the studio.
Contemporary Metal offers jewellers and students access to a fully equipped studio including: rolling mill, soldering and melting torches, pendant drills, vacuum casting, vulcaniser and wax injector, hydraulic press, lathe, tumbler, polisher, ultrasonic, large dapping sets and lapidary equipment.
We have benches available for hire on a casual, weekly or ongoing basis.
+ More